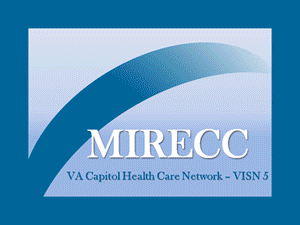 VISN 5 MIRECC
Welcome to the VA Capitol Health Care Network (VISN 5) Mental Illness Research, Education, and Clinical Center (MIRECC) Website.
The VISN 5 MIRECC is part of a nationwide program funded by Congress to improve health care and mental health care for Veterans with mental illness. The research, educational activities, and clinical demonstration projects of the VISN 5 MIRECC are specifically focused on schizophrenia and other serious mental illnesses.
For additional information regarding the services we provide, click on one of the links on the left.
For information regarding VISN 5 medical centers, please visit their websites:

Mailing Address:
VISN 5 MIRECC
Baltimore VA Medical Center
Attn: MIRECC (Annex Bldg)
10 N. Greene Street Baltimore, MD 21201
Physical Address:
VISN 5 MIRECC
Baltimore VA Annex
209 W. Fayette Street Baltimore, MD 21201

Phone: (410) 637-1850
Fax: (410) 637-1880
QUICK LINKS
   • Meet Our Staff
   • Online Educational Videos
   • Required Training for Research Staff
   • Small Grants Program for Recovery
   • Social Skills Training
   • VISN 5 MIRECC Presentations