Attention A T users. To access the menus on this page please perform the following steps. 1. Please switch auto forms mode to off. 2. Hit enter to expand a main menu option (Health, Benefits, etc). 3. To enter and activate the submenu links, hit the down arrow. You will now be able to tab or arrow up or down through the submenu options to access/activate the submenu links.

PTSD/TBI Research | NW Mental Illness Research, Education and Clinical Center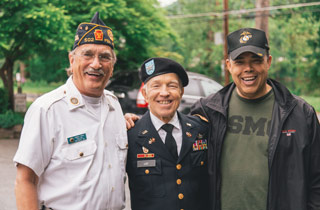 Current Research at NW MIRECC
The Northwest Mental Illness Research, Education and Clinical Center (NW MIRECC) conducts research that seeks new ways to diagnose, treat, and prevent the following conditions in Veterans:
Posttraumatic stress disorder (PTSD)
Mild traumatic brain injury (mTBI), which is also called a concussion
Headaches or other conditions that might start after an mTBI or concussion
Dementia and neurodegeneration, including mild cognitive impairment (MCI) and Alzheimer's disease (AD)
Drug abuse and dependence
Stresses related to the COVID-19 pandemic
Research studies at the NW MIRECC are currently enrolling Veterans, civilians, health care workers, and first responders. These studies may feature the following kinds of activities:
Questionnaires, interviews, or assessments of physical and mental health
Talk therapies, which may include psychotherapy or cognitive rehabilitation interventions
Wearing wristwatches or other devices that track physical activity or sleep patterns
Prescriptions for prazosin, a medication that may be useful for a number of conditions
Blood draws
Tests that measure eye responses to light
Lumbar punctures, which are used to obtain cerebrospinal fluid (CSF) and which have been safely performed in the NW MIRECC for more than two decades
Scans of the brain, including diffusion tensor imaging (DTI), magnetic resonance imaging (MRI, fcMRI, or fMRI), and positron emission tomography (PET or FDG-PET)
If you wish to learn about participating in research, see the NW MIRECC description of
what to know before volunteering
. If you wish to learn about specific NW MIRECC research studies, see the table below.
Topic
Study name
What is the study about?
Who can volunteer?
Click on flyers
PTSD
PREDICT

Noradrenergic Biomarkers in PTSD: Precision Medicine and Mechanisms
The PREDICT study seeks to learn whether simple tests can predict who will benefit from the medication prazosin as a treatment for PTSD.

For technical details about PREDICT:
https://reporter.nih.gov/
project-details/9707586
VETERANS

with

PTSD

Veterans age 21 to 75 with PTSD

For more information,
please call 206-268-5259 or 1-800-329-8387 ext 65259.


click here
PTSD and cannabis
ReCOUP

Pilot Study to Assess the Feasibility of Prazosin for Cannabis Use Disorder in Individuals with or without PTSD
The ReCOUP study seeks to learn whether the medication prazosin can help people reduce or stop their use of cannabis.

For technical details about ReCOUP:
https://clinicaltrials.gov/
ct2/show/NCT04721353
VETERANS

with

CANNABIS USE

Veterans age 21 to 65 who wish to reduce their use of cannabis

For more information,
call 206-265-1311


click here
PTSD and TBI
CABA

Cognitively Augmented Behavioral Activation (CABA) Study
The CABA study seeks to learn whether a new therapy intervention can help reduce symptoms in Veterans with both mTBI and PTSD.

For technical details about CABA:
https://reporter.nih.gov/
project-details/9889810
VETERANS

with

PTSD | mTBI

Veterans age 55 and over with both PTSD and mTBI

For more information,
please call 206.264.2756 or 1.800.329.8387 ext. 62756


click here
PTSD and TBI
PoND 1

Prazosin and CSF Biomarkers in mTBI
Trauma may lead to a buildup of harmful proteins in CSF. The PoND 1 study seeks to learn whether the medication prazosin can decrease this buildup of proteins.

For technical details about PoND 1:
https://reporter.nih.gov/
project-details/9312137
VETERANS

with

PTSD | mTBI

Veterans age 21 and over with combat-related PTSD or mTBI

For more information,
please call 206.277.5061 or 1.800.329.8387 ext. 65061


click here
TBI
TBI

mTBI and Biomarkers of Neurodegeneration
The TBI study seeks to learn whether the blast trauma that causes mTBI also causes long-term changes in the brain. This research may contribute to future treatments or preventions for such brain changes.

For technical details about TBI:
https://reporter.nih.gov/
project-details/9966780
VETERANS

with

mTBI | NO mTBI

Veterans age 18 and older who were deployed to Iraq or Afghanistan, including Veterans with and without mTBI

For more information,
please call 206.277.5566, 206-277-1272, or 1.800.329.8387 ext. 65566


click here
TBI and headaches
PTH

Chronic Post-concussive Headache: A Placebo-Controlled Treatment Trial of Prazosin
The PTH study seeks to learn whether the medication prazosin might be an effective treatment for posttraumatic headaches.

For technical details about PTH:
https://clinicaltrials.gov/
ct2/show/NCT02266329
VETERANS

with

mTBI

Veterans age 18 and older with bothersome headaches that started or worsened after an mTBI

For more information,
please call 206.277.3491 or 1.800.329.8387 ext. 63491


click here
Dementia
PoND 2

Prazosin and CSF Biomarkers in Cognitively Normal Persons, MCI, and Early AD
A buildup of harmful proteins in CSF may be linked with the development of dementia. The PoND 2 study seeks to learn whether the medication prazosin can decrease this buildup of proteins.

PoND 2 is a VA Puget Sound R&D Seed grant with no publicly available technical details.
CIVILIANS | VETERANS

with

NO PTSD

Civilians and Veterans age 45 and over who do not have combat-related PTSD

For more information,
please call 206.277.1491 or 1.800.329.8387 ext. 61491


click here
Pandemic Stress
ATTEND

ATTEND for Health Care Workers and First Responders
The ATTEND study seeks to learn about the impact of the COVID-19 pandemic on health care workers and first responders who are on the front lines.

For technical details about ATTEND:
https://www.medrxiv.org/
content/10.1101/2020.
12.16.20248325v1
CIVILIANS | VETERANS

who are

HEALTH CARE WORKERS | FIRST RESPONDERS

Health care workers and first responders nationwide who are experiencing increased stress in their workplace due to the COVID-19 pandemic

Health care workers and first responders who are eligible for care at VA Puget Sound may qualify for an optional drug trial

For more information,
please visit
https://bit.ly/ATTENDSTUDY


click here
return to top