Attention A T users. To access the menus on this page please perform the following steps. 1. Please switch auto forms mode to off. 2. Hit enter to expand a main menu option (Health, Benefits, etc). 3. To enter and activate the submenu links, hit the down arrow. You will now be able to tab or arrow up or down through the submenu options to access/activate the submenu links.

NewsFlash | Resources
Resources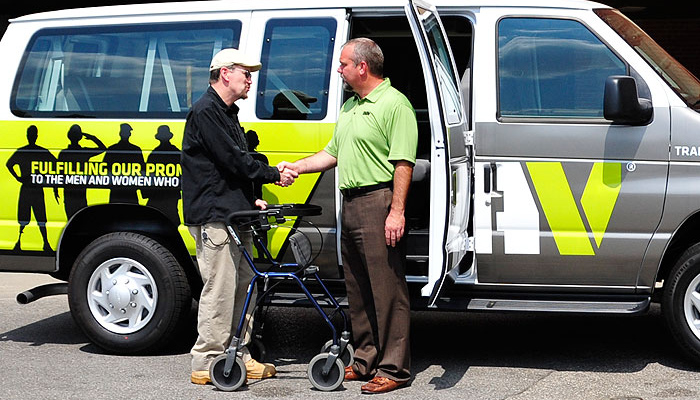 Disabled American Veterans (DAV) - Ford Motor Company has been a loyal friend to DAV for over 100 years. In 1922 Henry Ford provided 50 Model T Fords to help disabled World War I veterans attend the organization's second national convention. A great deal has changed since DAV was founded, but this much has remained the same: those who return from war must have men and women waiting for them at home who will stand with them as they work to take back their lives. As part of Ford's longstanding relationship, DAV members receive X-Plan Partner pricing on eligible new Ford and Lincoln vehicles, as well as up to $1000 reimbursement to adapt their vehicle to fit their needs through the Ford Accessibility program. DAV empowers veterans to lead high-quality lives with respect and dignity. It is dedicated to a single purpose: keeping our promise to America's veterans. DAV operates a fleet of vehicles around the country to provide free medical transportation for ill and injured veterans. To find out whether there is a van near you use the DAV Hospital Service Coordinator Directory to contact your nearest HSC for information or assistance. Navigating the resources available to veterans can be confusing, but DAV believes no veteran should have to go it alone. All services provided by DAV are free of charge.
Veteran Check-In - Veterans and service members experiencing difficulties in daily life or in distress can reach out to Check-In and trust that an advocate will find a licensed professional who can help. Connecting best-in-class mental health care providers and peer veteran networks. We've assembled an incredible team. With proper care, service members and veterans can continue to thrive on and off the battlefield. Connecting veterans with the support and services they need to live happier, healthier, more successful lives-and to make sure veterans are treated like people, not case numbers, every step of the care journey.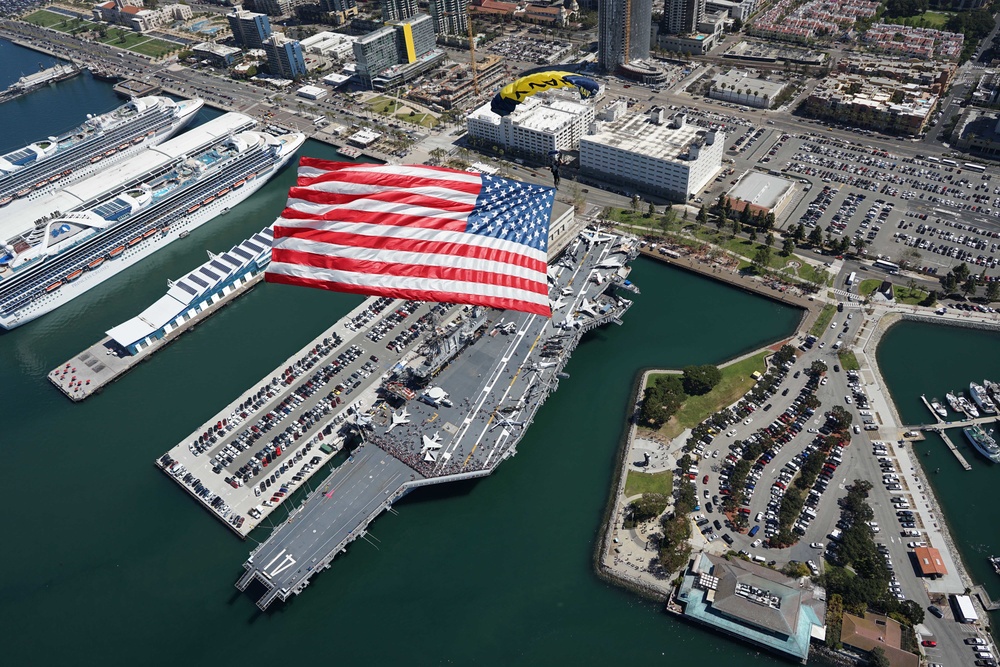 War Vet Call Center - Call 1-877-927-8387, 24/7 to reach the Vet Center Call Center and talk about your military experience or other concerns during your transition from military to civilian life. The team is comprised of Veterans from several eras as well as family members of Veterans.
Veterans Crisis Line - The Veterans Crisis Line connects Veterans and Service membhttps://www.veteranscrisisline.net/get-help-now/chaters in crisis and their families and friends with qualified, caring VA responders through a confidential toll-free hotline, online chat, or text. Dial 988 and Press 1, 24/7. Chat online. Text to 838255.
National Call Center for Homeless Veterans - If you are or know a Veteran who is homeless or at risk of becoming homeless, you may contact the National VA Call Center for Homeless Veterans. These resources are also available to Veterans' family members and friends, VA medical centers, VA partners, community agencies, and service providers. Dial +1-877-424-3838 and Press 1, 24/7. Chat online.

Quit VET - Tobacco quitlines can double your chance of quitting, compared with getting no support at all. Any Veteran receiving health care through VA is eligible to use the Quit VET quitline. Call the quitline to speak with a tobacco cessation counselor. Call 1-855-QUIT-VET (1-855-784-8838), 9 a.m.–9 p.m. ET, Monday–Friday.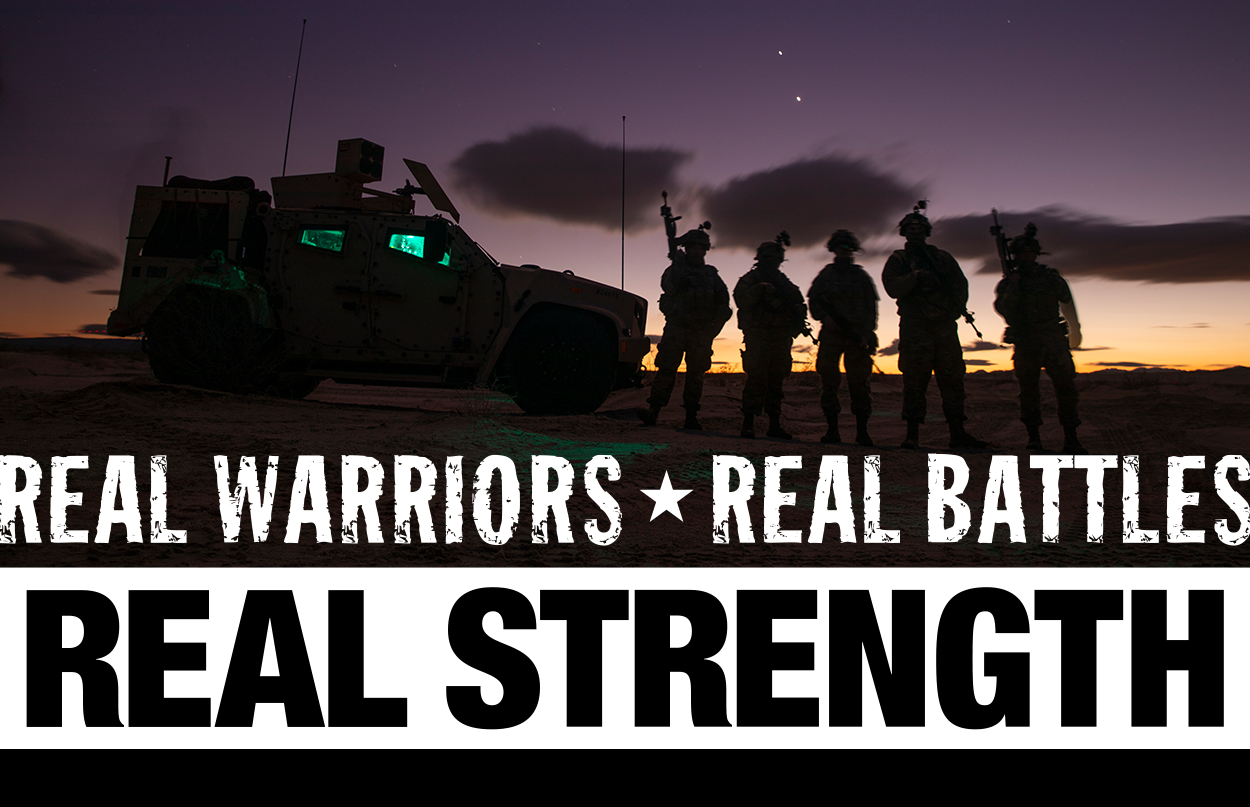 Real Warriors - Real Warriors, a program through the Defense Centers of Excellence for Psychological Health and Traumatic Brain Injury (DCoE), provides information and resources about psychological health, Posttraumatic Stress Disorder (PTSD), and traumatic brain injury. Call 1-866-966-1020, available 24/7. Chat online 24/7.
Women Veterans Call Center - The Women Veterans Call Center (WVCC) provides VA services and resources to women Veterans, their families, and caregivers. You can also chat online anonymously with a WVCC representative. Call 1-855-VA-Women (1-855-829-6636) Chat online.
Cohen Veterans Network (CVN) - CVN seeks to improve the quality of life for veterans, including those from the National Guard and Reserves, active duty, and their families. CVN works to strengthen mental health outcomes and complement existing support. Our vision is to ensure that every veteran, active duty service member, and family member is able to obtain access to high-quality care that enables them to lead fulfilling and productive lives. In VISN 20, Steven A. Cohen Military Family Clinics are in Alaska and Washington.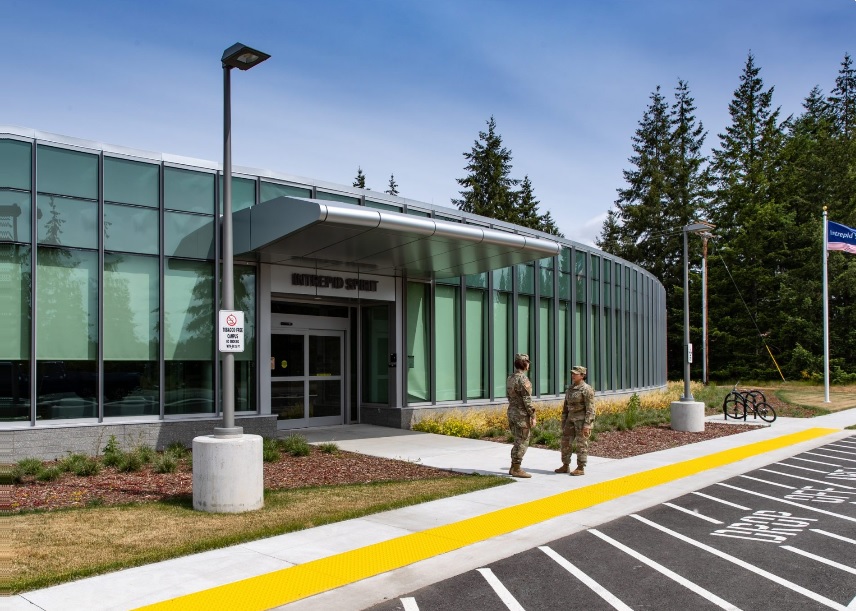 Intrepid Spirit Center - Ground was broken for the Intrepid Spirit Center at Madigan Army Medical Center, Joint Base Lewis-McChord, Washington on October 29, 2015, and the center was officially dedicated on April 5, 2018. The Madigan Traumatic Brain Injury Program provides comprehensive health care, education and research across the continuum of care, ranging from the impact of trauma exposure to the effects of all grades/types of brain injury, while striving to address the impacts of co-occurring conditions. The $12 million center specializes in treating service members with traumatic brain injuries and related conditions such as post-traumatic stress disorder and chronic pain. It is the 6th Intrepid Spirit Center to open nationally, thanks to a partnership between the Army and the Intrepid Fallen Heroes Fund.
VA Launchpad for Veterans - The Department of Veterans Affairs (VA) Launchpad helps Veterans and their Caregivers find and use VA apps. The VA Launchpad organizes VA apps and capabilities to help you more easily find the tools VA has made available for you. Mobile applications (apps) provide self-help, education and support following trauma.
Military Health mobile apps - Providing information and support to service members, veterans, and their families for a variety of health issues. Download these free apps on either Android or iOS devices.
National Center for PTSD - The mission of the National Center for PTSD is to advance the clinical care and social welfare of America's Veterans and others who have experienced trauma, or who suffer from PTSD, through research, education, and training in the science, diagnosis, and treatment of PTSD and stress-related disorders.

Management of Posttraumatic Stress Disorder and Acute Stress Disorder 2023 - The Departments of Veterans Affairs and Defense (VA/DoD) Clinical Practice Guideline (CPG) for posttraumatic stress disorder (PTSD) and acute stress disorder (ASD) was updated in 2023 to provide recommendations based upon the best information available at the time of publication. Recommendations in the CPG are designed to assist clinical decision making; they do not establish a standard of care or present an exclusive course of case management. The guideline describes the critical decision points in the Management of Posttraumatic Stress Disorder and Acute Stress Disorder and provides clear and comprehensive evidence based recommendations incorporating current information and practices for practitioners throughout the DoD and VA Health Care systems.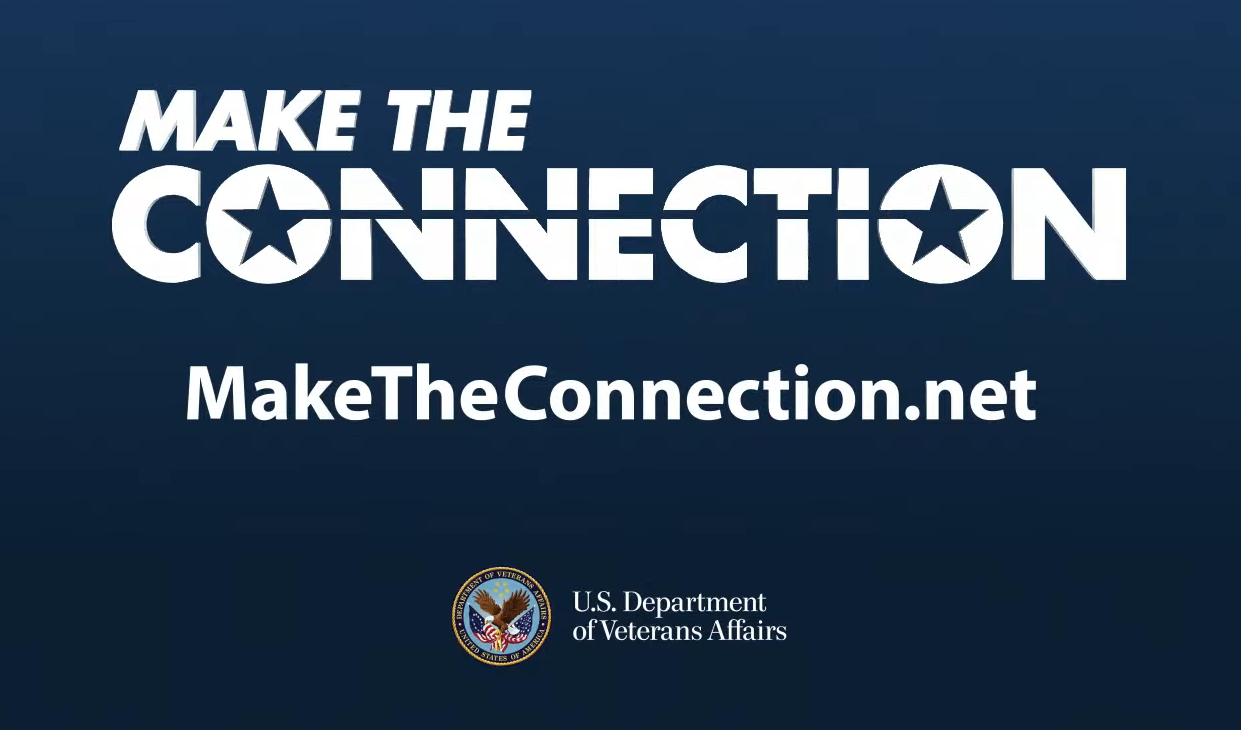 Make the Connection - Veterans can experience a range of life events, opportunities, and challenges after they leave the military. Connecting Veterans with information, resources, and solutions to issues affecting their health, well-being, and everyday lives. Make the Connection helps Veterans and their families recognize that they are not alone—there are people out there like them who are going through similar experiences, overcoming challenges, reaching positive outcomes for treatment and recovery, and finding paths to fulfilling lives. No matter what you may be experiencing, there is support for getting your life on a better track. Many, many Veterans have found the strength to reach out and make the connection.
Sesame Street for Military Families - Talk, Listen, Connect videos are available right here in the Explore by Topic section of the Sesame Street for Military Families website. These videos and related resources, include extensive tips for parents, downloadable child activities, and links to outside websites.
Returning Veterans Project (RVP) - VA aims to provide mental health care and other services to all Veterans, regardless of their location or circumstances, but not all Veterans are enrolled with VA. To reach them, VA often works with community service providers, who have boots-on-the-ground contact with this population. RVP supports the healing and health of our veterans and military communities by connecting post-9/11 veterans, service members, and their military families with free, confidential mental and physical health services.
Use of these Materials and Finding VA Health Care
Please note that the health care information provided in these materials is for educational purposes only. It does not replace the role of a medical practitioner for advice on care and treatment. If you are looking for professional medical care, find your local VA healthcare center by using the VA Facilities Locator & Directory. This page may contain links that will take you outside of the Department of Veterans Affairs website. VA does not endorse and is not responsible for the content of the linked websites.
VA Web Disclaimers
Disclaimer of Endorsement: Reference herein to any specific commercial products, process, or service by trade name, trademark, manufacturer, or otherwise, does not necessarily constitute or imply its endorsement, recommendation, or favoring by the United States Government. The views and opinions of authors expressed herein do not necessarily state or reflect those of the United States Government, and shall not be used for advertising or product endorsement purposes.
Disclaimer of Hyperlinks: The appearance of external hyperlinks does not constitute endorsement by the Department of Veterans Affairs of the linked websites, or the information, products or services contained therein. For other than authorized VA activities, the Department does not exercise any editorial control over the information you may find at these locations. All links are provided with the intent of meeting the mission of the Department and the VA website. Please let us know about existing external links which you believe are inappropriate and about specific additional external links which you believe ought to be included.
Disclaimer of Liability: With respect to documents available from this server, neither the United States Government nor any of its employees, makes any warranty, express or implied, including the warranties of merchantability and fitness for a particular purpose, or assumes any legal liability or responsibility for the accuracy, completeness, or usefulness of any information, apparatus, product, or process disclosed, or represents that its use would not infringe privately owned rights.
Reference from this web page or from any of the information services sponsored by the VA to any non-governmental entity, product, service or information does not constitute an endorsement or recommendation by the VA or any of its employees. We are not responsible for the content of any "off-site" web pages referenced from this server.
Disclaimer: The sharing of any non-VA information does not constitute an endorsement of products or services on the part of the VA.

VISN 20 encompasses 23% of the US land mass with medical centers in Alaska, Idaho, Oregon, and Washington. VISN 20 is home to 273 federally recognized American Indian and Alaskan Native tribes, 229 of which are located in Alaska. Serving 135 counties, VISN 20 is the largest geographic region of VA spanning three time zones, across 817,417 square miles, including Del Norte County California and Lincoln County Montana. In the fall of 1997, VISN 20 leaders from VA Puget Sound Health Care System (VAPSHCS) and the Portland VA Health Care System (VAPORHCS) were commissioned by Congress and the U.S. Department of Veterans Affairs (VA) to establish one of the first three Mental Illness Research, Education, and Clinical Centers (MIRECCs) in the United States. VAPSHCS serves Veterans from a five-state area in the Pacific Northwest with two main divisions: American Lake VA Medical Center and Seattle VA Medical Center. VA Outpatient Clinics and Vet Centers in Washington are located in Bellingham, Bellevue, Bremerton, Chehalis, Edmunds, Everett, Federal Way, Lacey, Mount Vernon, Olympia, Port Angeles, Puyallup, Richland, Renton, Silverdale, Seattle, Spokane, Union Gap, Vancouver, Walla Walla, Wenatchee, and Yakima. Veterans in Washington are also served by VA Medical Centers in Spokane, Vancouver, and Walla Walla. VAPORHCS serves Veterans in Oregon and Southwest Washington with two main divisions: Portland VA Medical Center and Vancouver VA Medical Center. VA Outpatient Clinics and Vet Centers in Oregon are located in Bend, Boardman, Brookings, Enterprise, Eugene, Fairview, Grants Pass, Hines, Hillsboro, Klamath Falls, LaGrande, Lincoln City, Newport, Portland, Salem, The Dalles, Warrenton, and West Linn. Veterans in Oregon are also served by VA Medical Centers in Roseburg, White City, and Vancouver, Washington.
Browse facilities by state
VA provides health care for Veterans from providers in the local community outside of VA. Veterans may be eligible to receive care from a community provider when VA cannot provide the care needed. VA launched its new and improved Veterans Community Care Program (VCCP) on June 6, 2019, implementing portions of the VA Maintaining Internal Systems and Strengthening Integrated Outside Networks Act of 2018 (MISSION Act), which both ended the Veterans Choice Program and established VCCP. Types of care under the new VCCP include General Community Care, Urgent Care, Emergency Care, Foreign Medical Care, Home Health and Hospice Care, Indian and Tribal Health Services, In Vitro Fertilization, State Veterans Home, and Flu Shots. Veterans work with their VA health care provider or other VA staff to see if they are eligible to receive community care based on new criteria. The VA Community Care Network (CCN) is VA's direct link with community providers to ensure Veterans receive timely, high-quality care.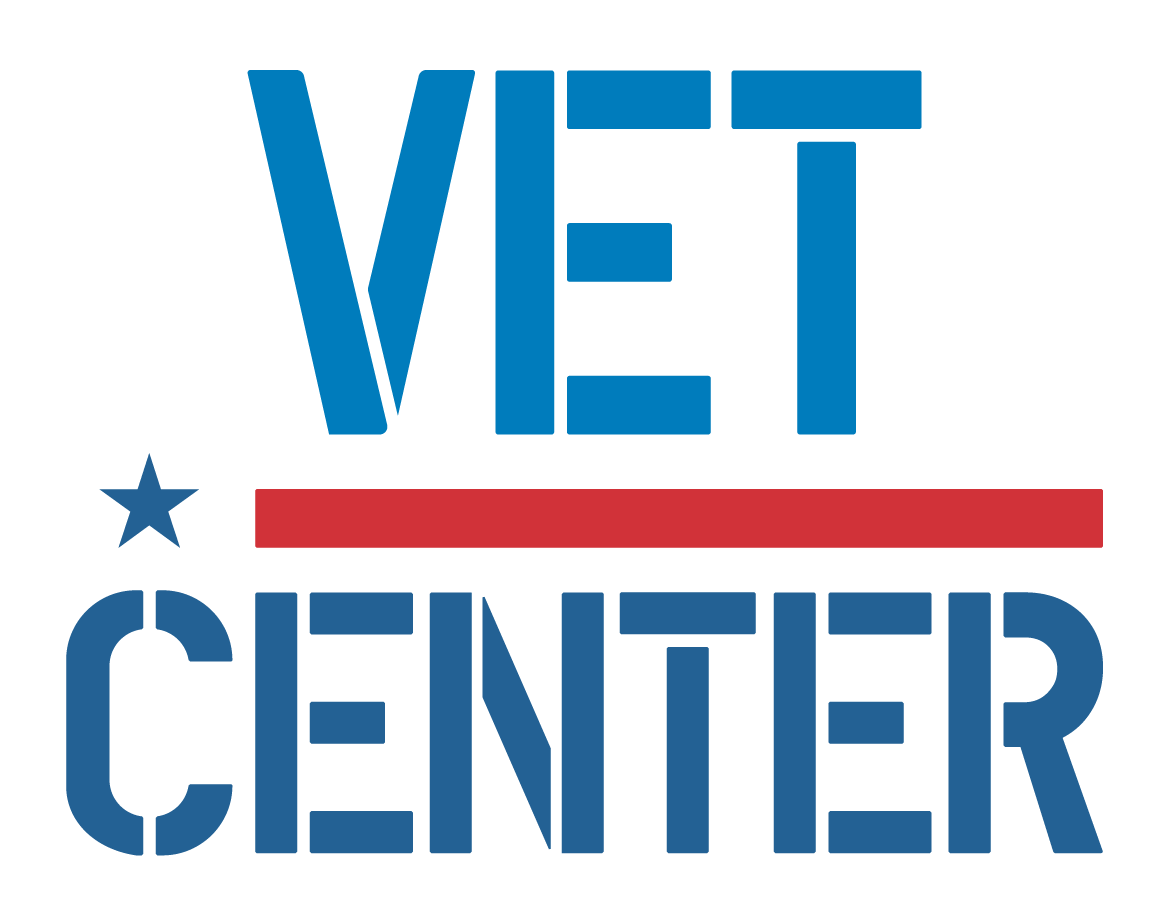 Vet Centers in the VISN 20 Health Care Network are community-based counseling centers that provide a wide range of social and psychological services, including professional readjustment counseling to eligible Veterans, active-duty Army, Navy, Marine Corps, Coast Guard, Air Force, and Space Force service members, including National Guard and Reserve components, and their families. 1-877-WAR-VETS is an around the clock confidential call center where Veterans, service members and their families can talk about their military experience or any other issue they are facing in transitioning after military service or trauma and get connected to their nearest Vet Center.
Vet Centers in VISN 20
Vet Centers provide counseling to make a successful transition from military to civilian life or after a traumatic event experienced in the military. Individual, group, marriage and family counseling is offered in addition to referral and connection to other VA or community benefits and services. If you can't make it to a nearby Vet Center, VA offers satellite Vet Center locations and Mobile Vet Centers that may be closer to you.
Alaska

Oregon

Idaho

Washington
Veterans Crisis "988" - The Military Crisis Line is a free, confidential resource for all service members, including members of the National Guard and Reserve, and Veterans, even if they're not enrolled in VA benefits or health care. Call 988 then Press 1 If you are a Veteran, service member, or any person concerned about one who is hard of hearing, you can connect with professional, caring VA responders through online chat and text message (838255).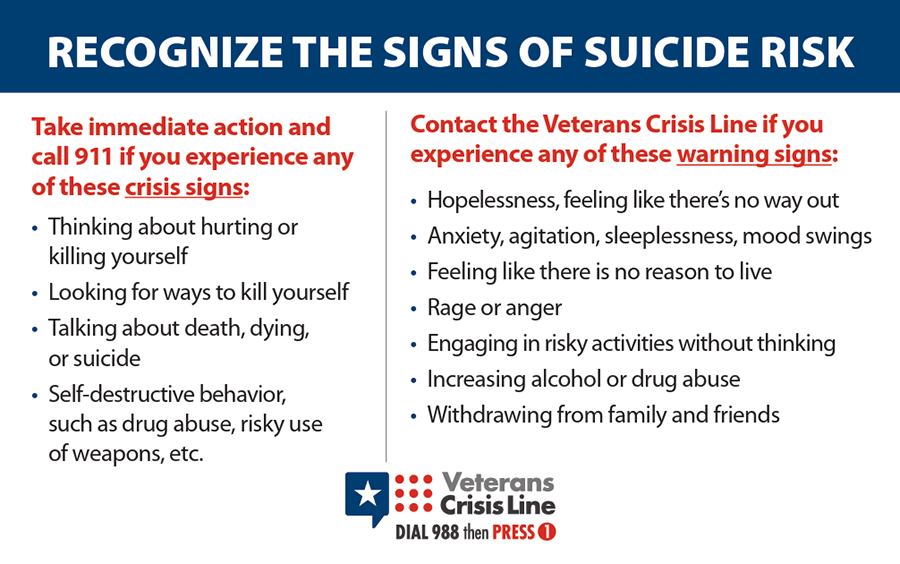 In Europe
Call 00800 1273 8255 or DSN 118

In Korea
Call 080-855-5118 or DSN 118

In Afghanistan
Call 00 1 800 273 8255 or DSN 111

In the Philippines
Call #MYVA or 02-8550-3888 and press 7
A Veteran overseas may contact the Veterans Crisis Line via the chat modality at VeteransCrisisLine.net/Chat. If the Veteran prefers a phone call, they can request this within the chat venue. For TTY users: Use your preferred relay service or dial 711 then 1-800-273-8255. Are you looking for clinical care or counseling? Assistance with benefits? No matter what you're experiencing, we're here to connect you with resources and support systems to help. The Veterans Crisis Line is free and confidential. When you call, chat, or text, a qualified responder will listen and help. You decide how much information to share. Support doesn't end with your conversation. Our responders can connect you with the resources you need.

Explore VA.gov
VA has a variety of mental health resources, information, treatment options, and more — all accessible to Veterans, Veterans' supporters, and the general public. Explore the pages below to learn more about a specific mental health topic. Each of these pages includes resources, information on treatment options, and more.
Stories of Support
Telehealth Therapy
For Daniel, Don, and Jennifer, convenient video counseling made it easier to put their health first. Adjusting from military service to civilian life can be both exciting and challenging. Make the Connection
Dial 988 then press 1
Connect with the Veterans Crisis Line to reach caring, qualified responders with the Department of Veterans Affairs. The Veterans Crisis Line is free and confidential. Support doesn't end with your conversation. Our responders can connect you with the resources you need.
Mental Health Updates
Explore the latest mental health news, resources, and real-life stories of mental health recovery.
Plan your trip to VA
In 1946, Veterans Canteen Service (VCS) was established by law to provide comfort and well-being to America's Veterans. With our many retail stores, cafés and coffee shops across the country, we serve those who have served our country. Our Canteens are whole health spaces for Veterans to connect, relax, share and care for themselves in an environment that is their benefit. We are proud to Serve America's Veterans and those who provide for their care.
VCS operates over 200 Patriot Stores in Veterans Administration (VA) Medical Centers nationwide. Many of our stores have been recently updated and expanded to provide our customers with a modern, clean and comfortable shopping experience. Our stores welcome our customers with wider aisles, wood-like floors, enhanced lighting and directional signage. PatriotStores have expanded hours of operation to provide service for customers on weekends at most locations.
return to top