Attention A T users. To access the menus on this page please perform the following steps. 1. Please switch auto forms mode to off. 2. Hit enter to expand a main menu option (Health, Benefits, etc). 3. To enter and activate the submenu links, hit the down arrow. You will now be able to tab or arrow up or down through the submenu options to access/activate the submenu links.

VISN 5 MIRECC – Putting Recovery Into Practice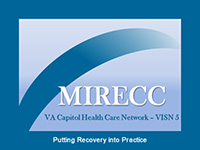 The mission of the VISN 5 MIRECC is to support and enhance the recovery and community functioning of Veterans with serious mental illness. Our integrated programs of research, education, and clinical training and consultation focus on the development, evaluation, and implementation of recovery-oriented evidence-based treatments and services for these Veterans.
Simply click on the plus (+) symbol to expand the section and read more about each News Spotlight. And the minus (-) to close that section.
Schizophrenia affects approximately 0.25%-0.64% of the population nationally.1-5 There are many treatments that can help individuals living with schizophrenia manage symptoms and lead full and rewarding lives.6-8 Veterans living with schizophrenia can connect with programs that provide evidence-based interventions and a full range of supportive services - such as Psychosocial Rehabilitation and Recovery Centers (PRRC) - at VAs across the country. Recovery is possible – Veterans living with schizophrenia can pursue their goals, engage in meaningful experiences, and live the lives of their choosing.
Schizophrenia often begins when people are in their late teens or early twenties. Approximately 100,000 young adults (age 16-35) experience a first episode of psychosis each year.1 Among active military personnel, there are approximately 1,150 incident cases of psychosis each year.10 When a young person first experiences psychosis, they and their families are often scared, confused, and unsure of what is going on. In many cases, young adults and their families do not know where to go for help which leads to months or years of incorrect diagnosis and treatment. This time between first symptoms of psychosis and engaging in treatment is referred to as duration of untreated psychosis. Research shows that longer duration of untreated psychosis is associated with poorer prognosis, including greater symptoms, poorer quality of life, reduced social functioning, and worse response to treatment.11-12 This underscores the great need for rapid diagnosis and referral to effective care for young adults experiencing a first episode of psychosis.
Over the last decade there has been a national effort to develop, test, and implement evidence-based treatments for young adults experiencing first-episode psychosis and their families. Coordinated Specialty Care (CSC) is a recovery-oriented treatment program for people with first episode psychosis. CSC is a multi-element approach that offers a range of evidence-based interventions within a framework of collaboration and shared decision making. The goal of CSC treatment is to help young adults experiencing first-episode psychosis and their families understand psychosis, engage in personalized interventions to manage symptoms, play an active role in the treatment process, and determine the best ways to pursue recovery. Investigators at the VISN 5 MIRECC and the University of Maryland School of Medicine have been active in developing interventions that are included within CSC and in training clinicians to provide them with fidelity. This and similar work in other states has increased the capacity of mental health systems to identify and provide treatment to young adults experiencing first-episode psychosis and their families.13-17
Although there are a growing number of CSC programs across the U.S. civilian community, resources for military personnel and Veterans remain limited. Heather Wastler, MS, a psychology intern at the VA Maryland Health Care System/University of Maryland School of Medicine Psychology Internship Consortium who is pursuing research with Dr. Alicia Lucksted at the VISN 5 MIRECC, has spearheaded a project to identify programs within VA that are targeted to the treatment of Veterans experiencing first-episode psychosis. As highlighted above, early detection and intervention for psychosis can have a profound impact on clinical outcome and recovery.13-17 The highly structured nature of the military and VA affords the unique opportunity for early detection,19 yet very little is known about pathways to care, engagement, and the unique treatment needs of this population. Here we present a summary of the findings regarding specialty care for early psychosis in military and VA treatment settings.
The Balboa Naval Hospital, located in San Diego California, houses the only CSC program across the Department of Defense and the Veteran Healthcare Administration. Using a team-based approach, this program uses recovery-oriented psychotherapy, shared decision-making medication management, family psychoeducation, and supported employment/education to help service members transition from military service to the VA. This program serves Navy and Marine active duty service members, leaving Army, Air Force, Coast Guard, and National Guard personnel and all veterans experiencing a first episode of psychosis without specialty care. For more information about this program please contact the PTP Office at 619-532-5808.
Dr. Jason Peer, The Local Recovery Coordinator at the Baltimore VA Medical Center, suggests that VA mental health programs may need to be delivered more flexibly to meet the unique treatment needs of this population, as young veterans might be less likely to engage in intensive treatment programs such as the PRRC and MHICM. At the same time, the VA has the potential to capitalize on its existing resources to create CSC programs to meet the needs of young veterans with psychosis. Dr. Amy Wilson, Local Recovery Coordinator at the Edith Nourse Rogers Memorial VA, provides a leading example through the Specialized Team for Early Engagement and Recovery (STEER). Working closely with the inpatient unit, OIF/OEF team, assessment clinics, and vocational services at her VAMC, Dr. Wilson and her team use the CSC model to provide specialized care for Veterans' experiencing early psychosis. For more information about the STEER program please contact Dr. Amy Wilson at Amy.Wilson8@va.gov or 781-687-3017.
As the VA continues to work towards improving care for Veterans experiencing early psychosis, it is important for clinicians to know what resources for evidence-based treatment exist in community settings and what opportunities there are for training in the CSC model. The following list includes resources for clinicians who are interested in learning more.
NIMH Recovery After an Initial Schizophrenia Episode (RAISE):
RAISE is a large-scale research project initiative designed to examine coordinated specialty care treatments for individuals experiencing a first episode of psychosis. RAISE offers resources and manuals for successful implementation of CSC-model treatment.
https://www.nimh.nih.gov/health/topics/schizophrenia/raise/index.shtml
OnTrackUSA:
OnTrackUSA is part of the NIMH RAISE initiative to implement CSC teams across the United States. This program provides manuals, web-based resources, and consultations for training programs and agencies interested in implementing CSC.
https://practiceinnovations.org/OnTrackUSA
Maryland Early Intervention Program (Maryland EIP):
The Maryland EIP Network is a group of providers and programs participating in Maryland's statewide effort to provide CSC services for individuals experiencing early psychosis.
https://marylandeip.com/
OnTrackNY:
OnTrackNY is a network of CSC programs located throughout New York State that offers specialized assessment and intervention for young adults experiencing early psychosis.
https://ontrackny.org/
Early Assessment and Support Alliance (EASA):
EASA is a network of programs and providers across Oregon who focus on early assessment, identification, and treatment for adolescents and young adults who are experiencing early signs of psychosis.
http://www.easacommunity.org/
For a complete list of early intervention programs and resources by state please use the following link:
http://www.easacommunity.org/files/Early_Psychosis_Intervention_Program_Directory.pdf
Bibliography
McGrath J, Saha S, Chant D, Welham J. Schizophrenia: a concise overview of incidence, prevalence, and mortality. Epidemiol Rev. 2008;30:67-76. PMID: 18480098
Kessler RC, Birnbaum H, Demler O, Falloon IR, Gagnon E, Guyer M, Howes MJ, Kendler KS, Shi L, Walters E, Wu EQ. The prevalence and correlates of nonaffective psychosis in the National Comorbidity Survey Replication (NCS-R). Biol Psychiatry. 2005;58(8):668-76. PMID: 16023620
Wu EQ, Shi L, Birnbaum H, Hudson T, Kessler R. Annual prevalence of diagnosed schizophrenia in the USA: a claims data analysis approach. Psychol Med. 2006;36(11):1535-40. PMID: 16907994
Saha S, Chant D, Welham J, McGrath J. A systematic review of the prevalence of schizophrenia. PLoS Med. 2005;2(5):e141. PMID: 15916472
Moreno-Küstner B, Martín C, Pastor L. Prevalence of psychotic disorders and its association with methodological issues. A systematic review and meta-analyses. PLoS One. 2018;13(4):e0195687. PMID: 29649252
Dixon LB, Dickerson F, Bellack AS, Bennett M, Dickinson D, Goldberg RW, Lehman A, Tenhula WN, Calmes C, Pasillas RM, Peer J. The 2009 schizophrenia PORT psychosocial treatment recommendations and summary statements. Schizophrenia bulletin. 2009;36(1):48-70. https://doi.org/10.1093/schbul/sbp115
Buchanan RW, Kreyenbuhl J, Kelly DL, Noel JM, Boggs DL, Fischer BA, Himelhoch S, Fang B, Peterson E, Aquino PR, Keller W. The 2009 schizophrenia PORT psychopharmacological treatment recommendations and summary statements. FOCUS. 2012;10(2):194-216. https://doi.org/10.1093/schbul/sbp116
Kreyenbuhl J, Buchanan RW, Dickerson FB, Dixon LB. The schizophrenia patient outcomes research team (PORT): updated treatment recommendations 2009. Schizophrenia bulletin. 2009;36(1):94-103. https://doi.org/10.1093/schbul/sbp130
FEP citation
Stahlman S, Oetting AA. Mental health disorders and mental health problems, active component, US Armed Forces, 2007-2016. MSMR. 2018;25(3):2-11.
Perkins DO, Gu H, Boteva K, Lieberman JA. Relationship between duration of untreated psychosis and outcome in first-episode schizophrenia: a critical review and meta-analysis. American journal of psychiatry. 2005;162(10):1785-804. https://doi.org/10.1176/appi.ajp.162.10.1785
Marshall M, Lewis S, Lockwood A, Drake R, Jones P, Croudace T. Association between duration of untreated psychosis and outcome in cohorts of first-episode patients: a systematic review. Archives of general psychiatry. 2005;62(9):975-83. https://doi.org/10.1001/archpsyc.62.9.975
Marino L, Nossel I, Choi JC, Nuechterlein K, Wang Y, Essock S, Bennett M, McNamara K, Mendon S, Dixon L. The RAISE connection program for early psychosis: secondary outcomes and mediators and moderators of improvement. The Journal of nervous and mental disease. 2015;203(5):365. https://doi.org/10.1097/NMD.0000000000000293
Kane JM, Schooler NR, Patricia Marcy BS, Correll CU, Brunette MF, Mueser KT, Rosenheck RA, Addington J, Estroff SE, Robinson J, Penn DL. Original research the RAISE early treatment program for first-episode psychosis: Background, rationale, and study design. J Clin Psychiatry. 2015;76(3):240-6. https://doi.org/10.4088/JCP.14m09289
Kane JM, Robinson DG, Schooler NR, Mueser KT, Penn DL, Rosenheck RA, Addington J, Brunette MF, Correll CU, Estroff SE, Marcy P. Comprehensive versus usual community care for first-episode psychosis: 2-year outcomes from the NIMH RAISE early treatment program. American Journal of Psychiatry. 2015;173(4):362-72. https://doi.org/10.1176/appi.ajp.2015.15050632
Nossel I, Wall MM, Scodes J, Marino LA, Zilkha S, Bello I, Malinovsky I, Lee R, Radigan M, Smith TE, Sederer L. Results of a coordinated specialty care program for early psychosis and predictors of outcomes. Psychiatric Services. 2018;69(8):863-70. https://doi.org/10.1176/appi.ps.201700436
Dixon LB, Goldman HH, Srihari VH, Kane JM. Transforming the treatment of schizophrenia in the United States: The RAISE initiative. Annual review of clinical psychology. 2018;14:237-58. https://doi.org/10.1146/annurev-clinpsy-050817-084934
Hann MC, Caporaso E, Loeffler G, Cuellar A, Herrington L, Marrone L, Yoon J. Early interventions in a US military FIRST episode psychosis program. Early intervention in psychiatry. 2018;12(6):1243-9. https://doi.org/10.1111/eip.12709
VISN 5 MIRECC investigators have been presenting their work at different meetings throughout the fall.
In June, Dr. Alicia Lucksted presented a poster at the Psychiatric Rehabilitation Association's 41st Annual Wellness and Recovery Summit in Denver on her qualitative analysis of interview data to understand how people with serious mental illness respond to and get impacted by stigma over their lives and what wisdom those experiences offer that might help others in similar circumstances. Recently, Dr. Lucksted also gave a presentation on Veterans, mental health, and stigma as part of the Pro Bono Counseling Project Military Program Workshop which was focused on Veterans mental health.
View poster. View slides.
In September, Dr. Letitia Travaglini and Lorrianne Kuykendall, MA presented a poster at the International Association for the Study of Pain, World Congress 2018 in Boston. The poster focused on results from a qualitative study examining chronic pain experiences and management among Veterans with bipolar disorder. The poster presenting findings on the relationships between chronic pain and mood symptoms; the degree to which pain and mood affect functioning; Veterans' thoughts about the pain-mood connection and how it translates into treatment; and the way in which mental health stigma affects access to and receipt of pain management.
View poster.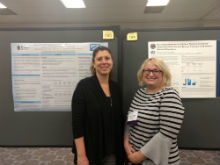 Drs. Samantha Hack and Amy Drapalski attended the 34th annual meeting of the International Society for Traumatic Stress Studies in Washington, DC. Dr. Hack presented a poster on her work exploring clinical behaviors that support patient-centered communication with recent Veterans with stress-related disorders.
View poster.
Dr. Drapalski presented a poster describing the work of her team piloting of an intervention to reduce internalized stigma in Veterans with PTSD.
View poster.
Drs. Amanda Peeples and Anjana Muralidharan presented their work at the annual scientific meeting of the Gerontological Society of America in Boston. Dr. Peeples presented a poster on her work studying barriers, facilitators, and preferences for mental health treatment engagement among Vietnam-era Veterans with PTSD and a delivered presentation on these Veterans' conceptualizations of recovery.
View poster. View slides.
Dr. Muralidharan gave a presentation on the progress of her team in developing a peer coaching program to promote supervised fitness training for older Veterans with psychotic disorders.
View slides.
Dr. Peter Phalen presented a poster at the annual meeting of the Association for Behavioral and Cognitive Therapies in Washington DC on his work examining relationships among personal beliefs, experiences, and stigma toward individuals who hear voices. He and colleagues at Indiana University-Purdue University also presented their work on mortality following naloxone encounters with emergency medical services at the American Public Health Association's 2018 Annual Meeting & Expo in San Diego.
View poster. View presentation abstract.
Contact any of these investigators with questions or for more information.

Presented in part by VISN5 MIRECC Fellow, Letitia Travaglini, PhD.
This 45 minute podcast is part of the Complex Clinical Decisions in Psychopharmacology Series from SAMHSA's Recovery to Practice (RTP) Program. In the podcast, national experts discuss the current research and clinical practices around managing chronic pain in individuals with serious mental illness (SMI), and reinforce the need for person-centered and strengths-based approaches to help better manage pain and improve functioning and quality of life in individuals with SMI.
Additional Presenters: Jennifer Murphy, PhD; Robert McCarron, DO; Amber Guererro, LMFT. Discussant: Curley Bonds, MD.
---
Featured Educational Products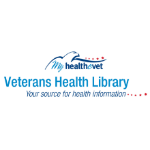 The VISN 5 MIRECC has assisted the Veterans Health Library in revising a series of informational materials focused on providing recovery-oriented information to Veterans living with schizophrenia and their families. Topics include understanding schizophrenia, supporting a loved one who is living with schizophrenia, understanding treatment options, and how to address stigma when pursing mental health recovery. Go to Guides for Veterans and Families about Schizophrenia to access this important resource. Learn more.

Social Skills Training (SST) is a treatment procedure that has been developed to directly address social problem-solving skills deficits with the goal of enhancing social functioning. SST interventions are tailored to meet the real-life, current-day difficulties that affect the social experiences of each Veteran, but several common core elements are present regardless of which specific skills are being taught. In general, SST is a highly structured educational procedure that employs didactic instruction, breaking skills down into discrete steps, modeling, behavioral rehearsal (role-playing), and social reinforcement. Learn more.
---
SMI in CLC: Staff Training Toolkit

Older Veterans with serious mental illness (SMI) who receive services in VA Community Living Centers (CLCs, or VA Nursing Homes) often have complex care needs. Dr. Anjana Muralidharan, investigator at the VISN 5 MIRECC, took part in a workgroup to consider the needs of these Veterans and the teams who care for them. She took the lead in compiling a toolkit of resources that CLC mental health professionals could use to support CLC teams in providing care to these residents. The materials build basic knowledge and address stigma regarding care of residents with SMI. The toolkit was developed for CLCs – but could be useful for any VHA staff who provide care to Veterans with SMI. Check them out!
---
Shared Decision-Making for Family Involvement in Treatment (SDM-FIT)

Involvement of family in a Veteran's mental health treatment can improve family functioning and effectively mobilize the family's social and emotional resources in support of the Veteran. The SDM-FIT protocol is a tool for VA mental health providers to facilitate collaborative discussion with Veterans regarding family involvement in treatment. Topics discussed include benefits of, concerns about, and preferences for family involvement. The protocol is designed to facilitate a 30-minute conversation between any mental health provider and Veteran receiving mental health treatment. Download Manual
---

Self-Stigma is the harm caused when people start to define themselves by the stereotypes they are exposed to. It interferes greatly with wellness, recovery and treatment. EASE is a 90 minute program for all staff in practical ways you can help people you serve reduce or avoid the effects of self-stigma. Learn more.
---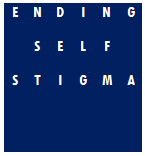 ESS was developed by a team from the VISN-5 MIRECC and the University of Maryland School of Medicine Department of Psychiatry to translate research on reducing the harmful effects of mental illness stigmatization into practical strategies that people can use. The above link will take you to further details and program materials. Learn more.
return to top