Attention A T users. To access the menus on this page please perform the following steps. 1. Please switch auto forms mode to off. 2. Hit enter to expand a main menu option (Health, Benefits, etc). 3. To enter and activate the submenu links, hit the down arrow. You will now be able to tab or arrow up or down through the submenu options to access/activate the submenu links.

Rocky Mountain MIRECC TBI Toolkit
Why an On-line Toolkit?

Traumatic Brain Injury (TBI) is a significant public health concern. This toolkit provides necessary information to address the needs of individuals with a history of TBI and co-occurring mental health conditions. The toolkit specifically emphasizes TBI in justice-involved and Military/Veteran populations. Community mental health clinicians', justice-involved professionals', and Military/Veteran experts' input was integral in identifying areas of focus. This toolkit is designed to assist professionals in identifying TBI and associated co-occurring problems and to facilitate determining potential need for further evaluation and/or treatment/case planning modification. In addition, relevant information and resources for families/support systems are available.
Download a copy of the TBI Toolkit Overview presentation
The Purpose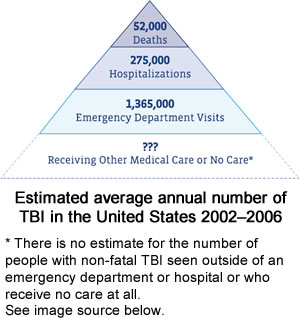 There is emerging evidence that TBI is a risk factor for criminal justice system involvement. The rate of traumatic brain injury has been estimated at 60% in adult offender populations and 30% in juvenile offenders versus approximately 8.5% in the general population. TBI has been shown to increase criminal behavior by youth and lead to their later involvement with law enforcement. Studies have also shown that about half of young offenders have a history of loss of consciousness, with repeated injuries being very common. In both adult and juvenile justice populations, TBI is associated with poorer outcomes, including reduced engagement in rehabilitation and higher rates of re-offending. TBI is also a significant concern for Veterans and Military Personnel. Between 2002 and 2012, approximately 1.8 million Veterans of the current conflicts in Afghanistan and Iraq left active duty and became eligible for health care through the Veterans Health Administration (VHA; Office of Public Health, 2014). Many of these Veterans are seeking medical and/or mental health care both within and outside of VHA. Approximately 59% of Operation Enduring Freedom/Operation Iraqi Freedom (OEF/OIF) Veterans have enrolled in VHA care (VHA; Office of Public Health, 2014), with the remainder either not seeking care or receiving it in the community. As such, professionals in criminal justice settings, community mental health, and VHA require the knowledge and skills to meet the specialized needs of these populations. The purpose of this toolkit is to offer providers/professionals working with justice-involved youth and adults, Military Personnel/Veterans, and/or civilians who have a history of TBI and mental health symptoms the following:
Background information/Education
Screening and Assessment Tools
Management Strategies
Interventions and Treatment Modification Suggestions
Resources
The Rocky Mountain TBI toolkit offers a useful starting point to increase the provision of TBI-related mental health services by community professionals.
Structure of the Toolkit
The Rocky Mountain MIRECC TBI toolkit is divided into sections of relevance. The TBI 101 section provides background information, screening, assessment and intervention information. Within this section, there is a page dedicated to resources and information specific to TBI in youth. There is also a section on mental health conditions that commonly co-occur with TBI – this section provides background, screening, assessment and intervention resources for use in identifying and managing comorbidities. The Justice-Involved section provides information designed to help clinicians and program administrators working in correctional settings identify and manage TBI within adult and juvenile correctional settings. The toolkit also provides important information about Military and Veteran culture. This section offers introductory information regarding Military structure along with links to help civilian community providers better understand Military culture. Finally, we offer additional resources for use by professionals and family members/supports.
Definitions
Screening:
Screening refers to a "preliminary procedure, such as a test or examination, to detect the most characteristic sign or signs of a disorder that may require further investigation" (Myers, 2009). Screening helps providers identify who might have a history of TBI. A positive screen would suggest the potential need to conduct further assessment to make a determination regarding TBI history.
Assessment:
Assessment refers to "an evaluation or appraisal of a condition...based on the patient's subjective report of the symptoms and course of the illness or condition and the examiner's objective findings, including data obtained through laboratory tests, physical examination, medical history, and information reported by family members and other health care team members" (Myers, 2009). Assessment assists the provider in determining whether or not an individual has a history of TBI. Assessment of co-occurring mental health symptoms and other sequelae is a critical step in providing care to those who have a history of TBI.
Intervention:
Intervention is defined as "an act performed to prevent harm to a patient or to improve the mental, emotional, or physical function of a patient" (Myers, 2009). The interventions referenced in this toolkit are aimed at treating symptoms associated with TBI and common co-occurring mental health conditions.
Military/Veteran Culture - Provides the user with an orientation to Military/Veteran culture with information about topics such as the branches of the Armed Forces, the structure of the Department of Veterans Affairs, and resources regarding military culture.
Behavioral Health/Co-occurring Psychiatric Conditions - Users will find information about symptoms and conditions that sometimes co-occur with TBI, such as substance use, depression, PTSD, and suicide risk.
Traumatic Brain Injury - Contains information such as TBI severity classification, common sequelae, how to assess for TBI, and treatment modification recommendations.
Resources - This section contains useful links to additional resources for Veterans, their support system and providers.
Funding
This toolkit was developed as part of collaborative projects between the Veterans Integrated Service Network 19/Rocky Mountain Mental Illness Research, Education and Clinical Center (Rocky Mountain MIRECC) and MINDSOURCE - Brain Injury Network. The projects were funded by the Health Resources and Services Administration (HRSA) and, more recently, the U.S. Department of Health and Human Services under the Administration for Community Living. The aim being to increase the provision of mental health services to: Veterans with TBI and co-occurring mental health concerns and justice-involved youth and adults. The toolkit contains best practices identified at an expert consensus meeting, which were published in the Community Mental Health Journal (Olson-Madden, Brenner, Matarazzo, and Signoracci, 2013). The content is also based on input obtained from Colorado mental health providers and correctional professionals who participated in focus groups aimed at identifying their learning needs regarding working with Veterans and civilians who have a history of TBI and co-occurring disorders.
References
Bagalman, E. (2013). Mental disorders among OEF/OIF Veterans using VA health care: Facts and figures. Congressional Research Service.
Image source: Faul M, Xu L, Wald MM, Coronado VG. Traumatic Brain Injury in the United States: Emergency Department Visits, Hospitalizations and Deaths 2002–2006. Atlanta (GA): Centers for Disease Control and Prevention, National Center for Injury Prevention and Control; 2010.
Matarazzo et al (under review). Community-based assessment and treatment of OEF/OIF/OND Veterans with a history of TBI and co-occurring mental health concerns: Using mixed methods to inform current practices, barriers and needs.
Myers, T. (2009). Mosby's Dictionary of Medicine, Nursing and Health Professions. St. Louis, MO: Mosby Elsevier.
Olson-Madden, J., Brenner, L., Matarazzo, B., & Signoracci, G. (2013). Identification and treatment of TBI and co-occurring psychiatric symptoms among OEF/OIF/OND veterans seeking mental health services within the state of Colorado: Establishing consensus for best practices. Community Mental Health Journal, 49(2), 220-229.
Seal, K., Cohen, G., Waldrop, A., Cohen, B., Maquen, S., Ren, L. (2013). Substance use disorders in Iraq and Afghanistan veterans in VA healthcare, 2001-2010: Implications for screening, diagnosis and treatment. Drug Alcohol Dependency, 116(1-3), 93-101.
Terrio, H., Brenner., L.A., Iwins, B.J., Cho, J.M., Helmick, K., Schwab, K., et al. (2009). Traumatic brain injury screening: Preliminary findings in a US Army brigade combat team. Journal of Head Trauma Rehabilitation, 24(1), 14-23.
Tanelian, T., & Jaycox, L.H. (Eds). (2008). Invisible wounds of war: Psychological and cognitive injuries, their consequences, and services to assist recovery. Santa Monica, CA: RAND Corporation.
Sponsors:
Your Feedback
Your feedback is tremendously important to keeping this toolkit up to date and relevant. If you find broken links, out of date information, or you have questions, suggestions or quibbles please contact Joe Huggins at joe.huggins@va.gov.
Thanks!
Site Map
Contact Information
Denver
Rocky Mountain Regional VAMC (RMR VAMC)
1700 N Wheeling St, G-3-116M
Aurora, CO 80045
720-723-6493
Salt Lake City
VA Salt Lake City Health Care System
500 Foothill DR
Salt Lake City, UT 84148
801-582-1565 x2821
return to top