Attention A T users. To access the menus on this page please perform the following steps. 1. Please switch auto forms mode to off. 2. Hit enter to expand a main menu option (Health, Benefits, etc). 3. To enter and activate the submenu links, hit the down arrow. You will now be able to tab or arrow up or down through the submenu options to access/activate the submenu links.

NewsFlash | Adaptive Sports
Adaptive Sports
Department of Defense Warrior Games — The Department of Defense Warrior Games is an annual event, first held in 2010, that celebrates the resiliency and dedication of wounded, ill, and injured active duty and veteran U.S. military service members. In June 2023, Army's Training and Doctrine Command, host of the DoD Warrior Games, will introduce the Warrior Games Challenge, taking place at Naval Air Station North Island in San Diego, Calif. While there will be some changes from previous years, the same spirit of the Warrior Games will remain steadfast, focused on the recovery through adaptive sports, and the Warrior Games is dedicated to serving as a way to enhance the recovery and rehabilitation of wounded warriors. Hundreds of elite athletes representing the United States Military will compete in adaptive sporting events such as wheelchair basketball, cycling, indoor rowing, and wheelchair rugby, among others. The DoD Warrior Games Challenge serves to enhance the recovery and rehabilitation of wounded warriors by providing them exposure to adaptive sports.
Military Adaptive Sports Program (MASP) — Military Adaptive Sports is designed to enhance recovery by engaging wounded, ill, and injured Service members early in individualized physical and cognitive activities outside of traditional therapy settings. The program hopes to inspire recovery and physical fitness and encourage new opportunities for growth and achievement. The benefits of physical activity for injured Service members include reduced stress, increased quality of life, lower blood pressure, weight management, and enhancement of the rehabilitative process. Site Coordinators facilitate daily activities, access to community-based events and resources, sports camps, and clinics. MASP offers a variety of single-sport clinics, multiple-sport camps, and mentorship opportunities to help wounded, ill and injured Service members learn new skills and promote lifelong fitness and well-being.
VA Office of National Veterans Sports Programs — VA's Office of National Veterans Sports Programs and Special Events provides Veterans with opportunities for health and healing through adaptive sports and therapeutic art programs. These specialized rehabilitation events aim to optimize Veterans' independence, community engagement, well-being, and quality of life. The programs are built on clinical expertise within VA, with essential support from Veteran Service Organizations, corporate sponsors, individual donors and community partners. Interested in becoming a Paralympic athlete? Veterans with disabilities can compete with the national Olympic Team, as authorized by 38 U.S.C. 322(d) and Section 703 of the Veterans' Benefits Improvement Act of 2008. The VA National Veterans Sports Programs & Special Events Office provides a monthly assistance allowance for Veterans with disabilities training in Paralympic sports. The monthly allowance rate for an athlete approved for monetary assistance is the same as the 38 U.S.C. Chapter 31 Vocational Rehabilitation & Employment (VR&E) rate. Detailed requirements, performance standards, training plans are available from the VA Office of National Veterans Sports Programs. The Adaptive Sports Grant Program is facilitated and managed by the National Veterans Sports Programs and Special Events Office (NVSP&SE). VA awards grants to qualifying organizations to plan, develop, manage, and implement programs to provide adaptive sports opportunities for disabled Veterans and disabled members of the Armed Forces as authorized under 38 United States Code 521A.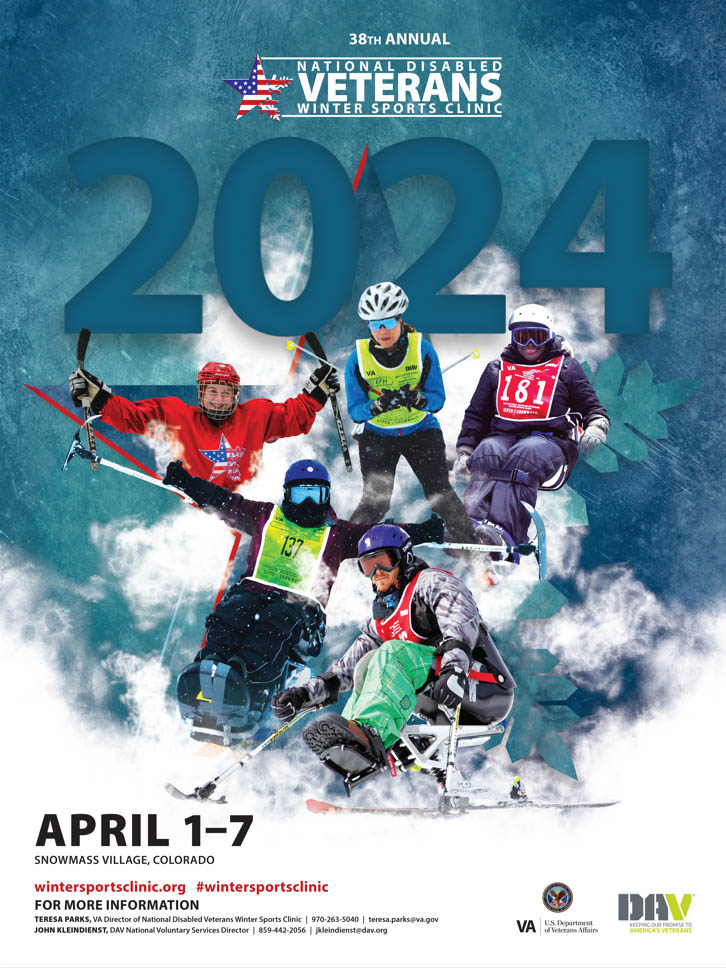 National Disabled Veterans Winter Sports Clinic April 1-7, 2024 | Snowmass, CO — Participating Veterans experience "Miracles on a Mountainside" as they are provided with training in adaptive Alpine and Nordic skiing, sled hockey, scuba diving, rock wall climbing and a number of other adaptive activities, sports and education. The five-day event is sponsored by the Department of Veterans Affairs (VA) and DAV (Disabled American Veterans), with financial assistance from corporate sponsors and individual donors. Veterans with traumatic brain injuries, spinal cord injuries, orthopedic amputations, visual impairments, certain neurological conditions and other disabilities are empowered to challenge perceived limitations by participating in adaptive sports that improve their overall health and outlook.
National Veterans Summer Sports Clinic Aug. 24-30, 2024 (Tentative) Registration is open Dec. 1, 2023 – March 1, 2024 | San Diego, CA — The adaptive sports program is designed for Veterans whose current rehabilitation goals would benefit from the value of adaptive summer sports. Prior NVSSC events have served Veterans living with spinal cord injuries, amputations, visual impairments, neurological conditions, PTSD, burns, and TBI/Poly Trauma. NVSSC is open to all Veterans enrolled in VA health care. All applications are subject to review by the NVSSC Medical Director and NVSSC Director.
National Veterans Wheelchair Games July 25-30, 2024 | New Orleans, LA — The National Veterans Wheelchair Games is the world's largest annual wheelchair sports and rehabilitation event solely for military veterans. The event demonstrates the unstoppable character of veterans and seeks to foster wider respect and opportunities for all people with disabilities. The National Veterans Wheelchair Games is open to all U.S. veterans with spinal cord injuries, amputations, multiple sclerosis, or other central neurological conditions who require a wheelchair for athletic competition. Every year, hundreds of American heroes from World War II, the Korean War, the Vietnam War, the Gulf War, and the post-9/11 era compete in this celebration of sport, courage and camaraderie.
National Veterans Golden Age Games August 24-29, 2024 | Salt Lake City, UT — Founded in 1985, the National Veterans Golden Age Games serves Veterans ages 55 years and older. Through its "Fitness for Life" motto, the Golden Age Games offers sports competitions and health education sessions to demonstrate the value that sports, wellness, and fitness provide to assist senior Veterans live an active and healthy lifestyle. The National Veterans Golden Age Games is a qualifying event for the National Senior Games.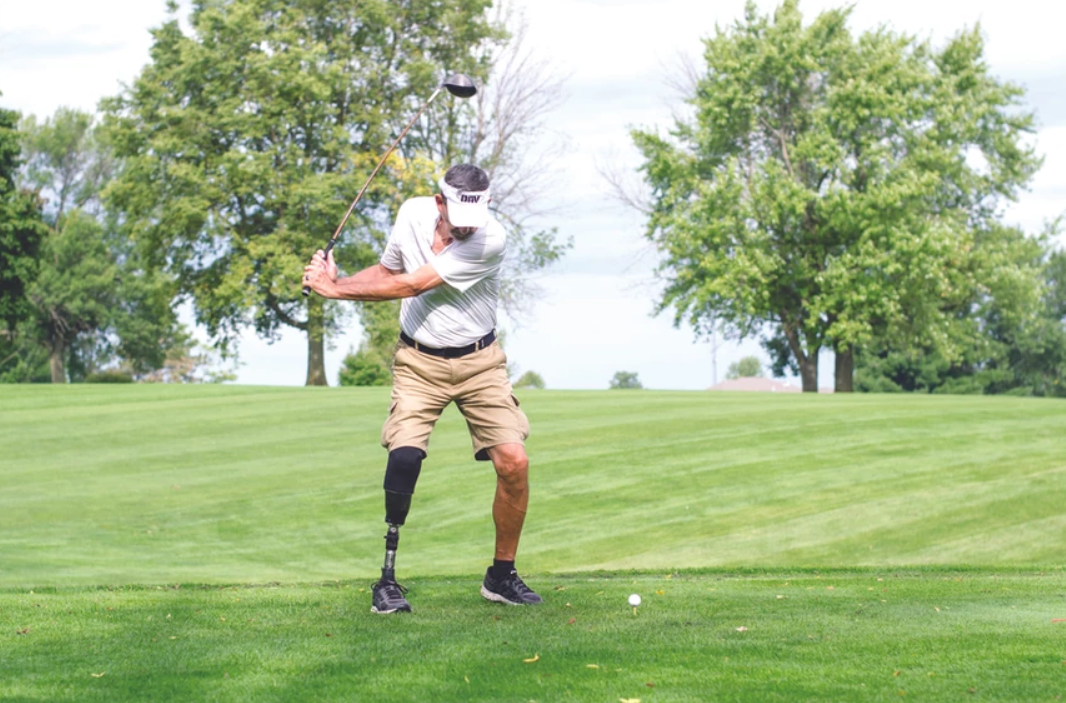 National Disabled Veterans Golf Clinic September 10-15, 2023 | Riverside, Iowa — The National Disabled Veterans Golf Clinic (NDVGC) is a week-long adaptive golf program that is presented by the U.S. Department of Veterans Affairs and DAV (Disabled American Veterans). This annual event promotes rehabilitation by instructing Veterans with specific life-changing disabilities in adaptive golf. In addition to adaptive golf Veterans will be introduced to other adaptive recreational sports.
Professional Golfer's Association (PGA) Helping Our Patriots Everywhere (HOPE) — The flagship military program of PGA REACH, the charitable foundation of the PGA of America. PGA HOPE introduces the game of golf to Veterans and Active Duty Military to enhance their physical, mental, social and emotional well-being. The program introduces golf through a developmental 6-8 week curriculum, led by PGA Professionals trained in adaptive golf and military cultural competency. All programs are funded by PGA REACH and supplemented by PGA Section Foundations, so the cost of programming is free to all Veterans. The PGA of America is one of the world's largest sports organizations, composed of PGA Professionals who work daily to grow interest and participation in the game of golf.
American Lake Golf Course — The American Lake Veterans Golf Course is an 18-hole, Jack Nicklaus designed golf course managed, operated, and maintained by 235 volunteers: veterans, spouses, and friends of veterans. American Lake Golf Course is the only golf course in the United States designed to be played by disabled veterans. Recently the front nine greens were renovated with drainage and sand traps shaped to the specifications of the Nicklaus design. The greens renovation included 6-inches of pea gravel and 12-inches of a sandy/loam mixture on top. The surrounds and approaches of the greens are graded with 6 inches of topsoil and seeded perineal rye grass. Volunteers perform a wide variety of functions: management, grounds keeping and course maintenance, maintenance of equipment, check-in of golfers and guests, starters, marshals, scheduling of events, food service for events, training, and golf club repair. The American Lake Veterans Golf Course offers rehabilitation, therapy, socialization and support to those who have given so much for our country.
National Veterans Creative Arts Festival — The National Veterans Creative Arts Festival is the culmination of VA facility competitions in art, creative writing, dance, drama and music for Veterans enrolled in the Department of Veterans Affairs national health care system. Veterans exhibit their artwork and original writings or perform musical, dance or dramatic selections in a live stage show performance. All Veterans invited to participate are selected winners of a national creative arts competition in which thousands of Veterans enter from VA medical facilities across the nation.
MOVE Weight Management Program — MOVE is designed to improve the lives of Veterans. A team of health care providers is ready to help you lose weight and keep it off. You will learn how to lose weight safely and be healthy. You will be an active player in this journey and your health care team will be your "coaches." If you are interested in losing weight and want to participate in MOVE, talk to your VA Provider or MOVE Coordinator who can help you get started. MOVE's core ideas—encouraging healthy eating behavior, increasing physical activity, and promoting even small weight losses—are easy to follow and based on the latest in nutrition science.
MOVE! Veteran Workbook — The MOVE! Weight Management Program uses a 16-module MOVE! Veteran Workbook that guides participants through learning and activities to support healthy lifestyle changes. The Workbook also contains three mini-modules with additional information. The Workbook material is available in several formats that are explained below. This workbook was designed to empower and engage Veterans in their own healthcare, Healthy Living and Whole Health. Throughout the MOVE! Program Veterans will take charge of their weight management and apply tools and strategies to lose weight and be healthy. This workbook focuses on healthy eating, increasing physical activity, and applying healthy behaviors as a lifestyle. This workbook is also meant to be interactive with goal-setting tools, reflection questions, and practice activities. The more you put into the workbook, the more you will get out of it!
Team Red, White, and Blue (RWB) — In the military, service members push the limits of their well-being to support the mission. That selfless service posture has always been necessary because service members of every era knew they may be called to war. As they move into civilian life, many veterans carry that mission-first mindset with them, neglecting their health in the process. We believe that veterans are America's most resilient citizens — and it's time for more veterans to prioritize their well-being first. Team RWB exists to guide them through that journey with real-life and virtual opportunities focused on building a healthier lifestyle because a strong focus on mental and physical health is critical to ensuring veterans' best days are ahead.
Sign up for email updates or access your subscriber preferences: https://public.govdelivery.com/accounts/USVHAVISN20/subscriber/new.
Use of these Materials and Finding VA Health Care

Please note that the health care information provided in these materials is for educational purposes only. It does not replace the role of a medical practitioner for advice on care and treatment. If you are looking for professional medical care, find your local VA healthcare center by using the VA Facilities Locator & Directory. This page may contain links that will take you outside of the Department of Veterans Affairs website. VA does not endorse and is not responsible for the content of the linked websites.
VA Web Disclaimers
Disclaimer of Endorsement: Reference herein to any specific commercial products, process, or service by trade name, trademark, manufacturer, or otherwise, does not necessarily constitute or imply its endorsement, recommendation, or favoring by the United States Government. The views and opinions of authors expressed herein do not necessarily state or reflect those of the United States Government, and shall not be used for advertising or product endorsement purposes.
Disclaimer of Hyperlinks: The appearance of external hyperlinks does not constitute endorsement by the Department of Veterans Affairs of the linked websites, or the information, products or services contained therein. For other than authorized VA activities, the Department does not exercise any editorial control over the information you may find at these locations. All links are provided with the intent of meeting the mission of the Department and the VA website. Please let us know about existing external links which you believe are inappropriate and about specific additional external links which you believe ought to be included.
Disclaimer of Liability: With respect to documents available from this server, neither the United States Government nor any of its employees, makes any warranty, express or implied, including the warranties of merchantability and fitness for a particular purpose, or assumes any legal liability or responsibility for the accuracy, completeness, or usefulness of any information, apparatus, product, or process disclosed, or represents that its use would not infringe privately owned rights.
Reference from this web page or from any of the information services sponsored by the VA to any non-governmental entity, product, service or information does not constitute an endorsement or recommendation by the VA or any of its employees. We are not responsible for the content of any "off-site" web pages referenced from this server.
Disclaimer: The sharing of any non-VA information does not constitute an endorsement of products or services on the part of the VA.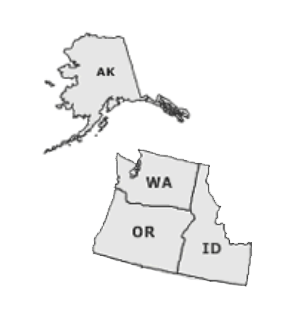 Veterans Integrated Service Network 20 (VISN 20) serves 135 counties in Alaska, Idaho, Oregon, Washington, and extending into Del Norte County California and Lincoln County Montana. VISN 20 is the largest geographic region of VA and home to 273 federally recognized American Indian and Alaskan Native tribes, 229 of which are located in Alaska. Encompassing 23% of the US land mass, VISN 20 spans three time zones over 817,417 square miles. VA Puget Sound Health Care System (VAPSHCS) and the Portland VA Health Care System (VAPORHCS) were commissioned by Congress and the U.S. Department of Veterans Affairs (VA) as one of the first three Mental Illness Research, Education, and Clinical Centers (MIRECCs) in the United States. VAPSHCS serves Veterans from a five-state area in the Pacific Northwest with two main divisions: American Lake VA Medical Center and Seattle VA Medical Center. VA Outpatient Clinics and Vet Centers in Washington are located in Bellingham, Bellevue, Bremerton, Chehalis, Edmunds, Everett, Federal Way, Lacey, Mount Vernon, Olympia, Port Angeles, Puyallup, Richland, Renton, Silverdale, Seattle, Spokane, Union Gap, Vancouver, Walla Walla, Wenatchee, and Yakima. Veterans in Washington are also served by VA Medical Centers in Spokane, Vancouver, and Walla Walla. VAPORHCS serves Veterans in Oregon and Southwest Washington with two main divisions: Portland VA Medical Center and Vancouver VA Medical Center. VA Outpatient Clinics and Vet Centers in Oregon are located in Bend, Boardman, Brookings, Enterprise, Eugene, Fairview, Grants Pass, Hines, Hillsboro, Klamath Falls, LaGrande, Lincoln City, Newport, Portland, Salem, The Dalles, Warrenton, and West Linn. Veterans in Oregon are also served by VA Medical Centers in Roseburg, White City, and Vancouver, Washington.
Browse facilities by state
VA provides health care for Veterans from providers in the local community outside of VA. Veterans may be eligible to receive care from a community provider when VA cannot provide the care needed. VA launched its new and improved Veterans Community Care Program (VCCP) on June 6, 2019, implementing portions of the VA Maintaining Internal Systems and Strengthening Integrated Outside Networks Act of 2018 (MISSION Act), which both ended the Veterans Choice Program and established VCCP. Types of care under the new VCCP include General Community Care, Urgent Care, Emergency Care, Foreign Medical Care, Home Health and Hospice Care, Indian and Tribal Health Services, In Vitro Fertilization, State Veterans Home, and Flu Shots. Veterans work with their VA health care provider or other VA staff to see if they are eligible to receive community care based on new criteria. The VA Community Care Network (CCN) is VA's direct link with community providers to ensure Veterans receive timely, high-quality care.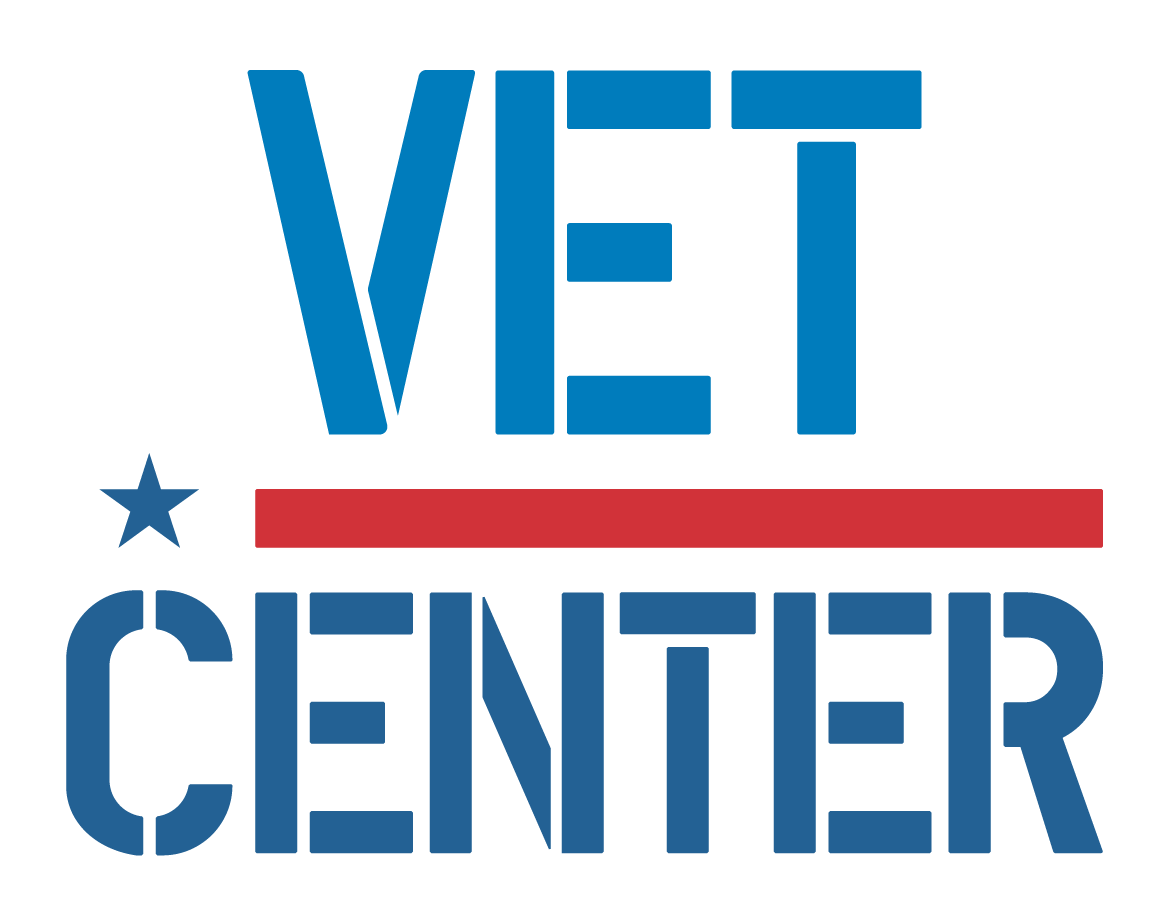 Vet Centers in the VISN 20 Health Care Network are community-based counseling centers that provide a wide range of social and psychological services, including professional readjustment counseling to eligible Veterans, active-duty Army, Navy, Marine Corps, Coast Guard, Air Force, and Space Force service members, including National Guard and Reserve components, and their families. 1-877-WAR-VETS is an around the clock confidential call center where Veterans, service members and their families can talk about their military experience or any other issue they are facing in transitioning after military service or trauma and get connected to their nearest Vet Center.
Vet Centers in VISN 20
Vet Centers provide counseling to make a successful transition from military to civilian life or after a traumatic event experienced in the military. Individual, group, marriage and family counseling is offered in addition to referral and connection to other VA or community benefits and services. If you can't make it to a nearby Vet Center, VA offers satellite Vet Center locations and Mobile Vet Centers that may be closer to you.
Alaska

Oregon

Idaho

Washington
Veterans Crisis "988" - The Military Crisis Line is a free, confidential resource for all Army, Navy, Marines, Coast Guard, Air Force and Space Force service members, including members of the National Guard and Reserve, and Veterans. You're not alone—the Veterans Crisis Line is here for you. For immediate help in dealing with a suicidal crisis, contact the Veterans Crisis Line: Dial 988 then Press 1. You don't have to be enrolled in VA benefits or health care to call.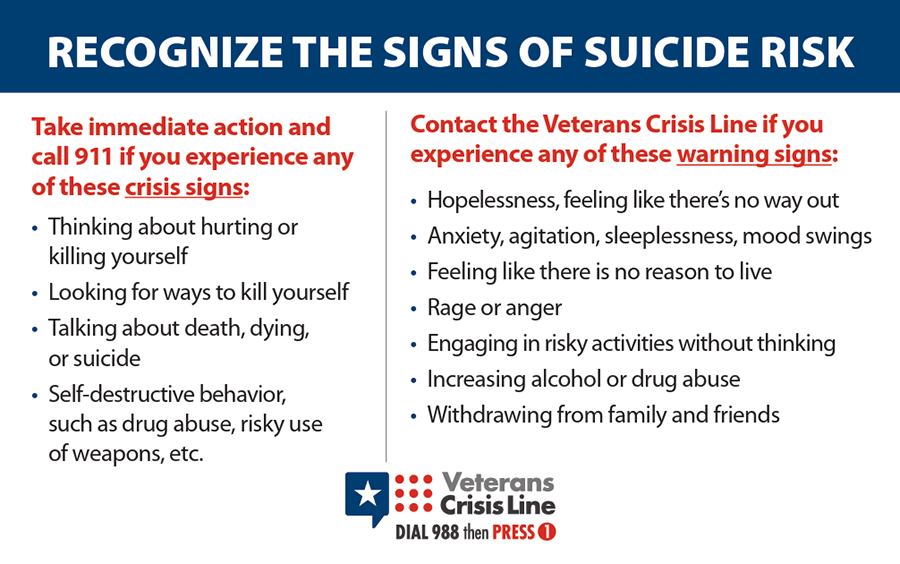 In Europe
Call 00800 1273 8255 or DSN 118

In Korea
Call 080-855-5118 or DSN 118

In Afghanistan
Call 00 1 800 273 8255 or DSN 111

In the Philippines
Call #MYVA or 02-8550-3888 and press 7
A Veteran overseas may contact the Veterans Crisis Line via the chat modality at VeteransCrisisLine.net/Chat. If the Veteran prefers a phone call, they can request this within the chat venue. For TTY users: Use your preferred relay service or dial 711 then 1-800-273-8255. Are you looking for clinical care or counseling? Assistance with benefits? No matter what you're experiencing, we're here to connect you with resources and support systems to help. The Veterans Crisis Line is free and confidential. When you call, chat, or text, a qualified responder will listen and help. You decide how much information to share. Support doesn't end with your conversation. Our responders can connect you with the resources you need.

Explore VA.gov
VA has a variety of mental health resources, information, treatment options, and more — all accessible to Veterans, Veterans' supporters, and the general public. Explore the pages below to learn more about a specific mental health topic. Each of these pages includes resources, information on treatment options, and more.
Stories of Support
Telehealth Therapy
For Daniel, Don, and Jennifer, convenient video counseling made it easier to put their health first. Adjusting from military service to civilian life can be both exciting and challenging. Make the Connection
Dial 988 then press 1
Connect with the Veterans Crisis Line to reach caring, qualified responders with the Department of Veterans Affairs. The Veterans Crisis Line is free and confidential. Support doesn't end with your conversation. Our responders can connect you with the resources you need.
Mental Health Updates
Explore the latest mental health news, resources, and real-life stories of mental health recovery.
Plan your trip to VA
In 1946, Veterans Canteen Service (VCS) was established by law to provide comfort and well-being to America's Veterans. With our many retail stores, cafés and coffee shops across the country, we serve those who have served our country. Our Canteens are whole health spaces for Veterans to connect, relax, share and care for themselves in an environment that is their benefit. We are proud to Serve America's Veterans and those who provide for their care.
VCS operates over 200 Patriot Stores in Veterans Administration (VA) Medical Centers nationwide. Many of our stores have been recently updated and expanded to provide our customers with a modern, clean and comfortable shopping experience. Our stores welcome our customers with wider aisles, wood-like floors, enhanced lighting and directional signage. PatriotStores have expanded hours of operation to provide service for customers on weekends at most locations.
return to top