Attention A T users. To access the menus on this page please perform the following steps. 1. Please switch auto forms mode to off. 2. Hit enter to expand a main menu option (Health, Benefits, etc). 3. To enter and activate the submenu links, hit the down arrow. You will now be able to tab or arrow up or down through the submenu options to access/activate the submenu links.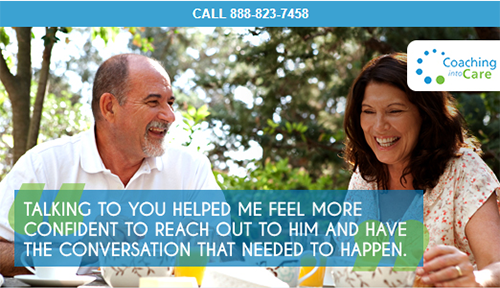 Coaching into Care
Does your spouse or family member need help for alcohol or substance abuse? A Veteran of the wars in Iraq or Afghanistan? Do you have trouble convincing them to get help? Give us a call: 888-823-7458. Hours: Monday - Friday 8 a.m. - 8 p.m. EST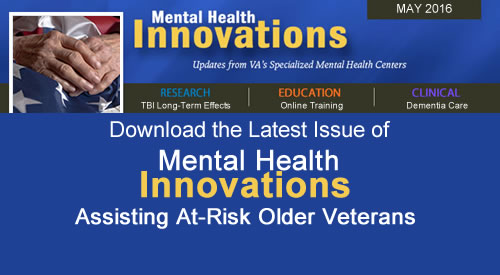 Mental Health Innovations
Assisting At-Risk Older Veterans - Understanding Traumatic Brain Injury and Strategies for Treatment; Online Training for Suicide Prevention of Older Veterans; Partners in Dementia Care Improves Outcomes and Access to Services for Veterans and Caregivers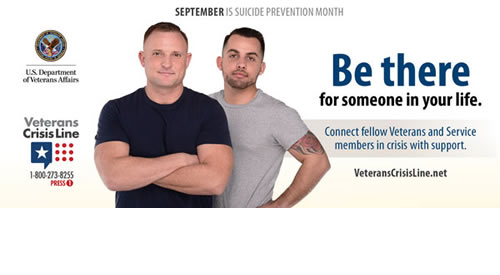 Suicide Prevention Always
Preventing suicide starts with this simple act of support: Be There. Click to learn how you can #BeThere this month to help someone feel less alone

Resources for Coping after a Tragic Event
Download this resource from NCPTSD For Leadership: The First Weeks Following a Critical Incident
We are deeply saddened by the tragedy at the Yountville Veterans Home. Our hearts are heavy for the Yountville Veterans Home community, and the families and friends who are grieving for those who died.
In the aftermath of this and other recent tragedies, we would like to provide some resources for coping after a traumatic incident.
Common Reactions After Tragic/Traumatic Events
There are many different responses to traumatic events. Most people have intense responses immediately following, and often for several weeks or even months after, a traumatic event.
These responses can include:
Feeling anxious, sad, scared, or angry
Trouble concentrating and sleeping
Continually thinking about what happened

For most people, these are normal and expected responses and generally lessen with time. Honor your feelings and remember that it is common to have a range of emotions after a traumatic incident.
Self-Care
Attending to self-care is an important part of coping after trauma.
Engage in healthy behaviors, try to maintain normal routines for meals, exercise, and sleep
Avoid alcohol and other drugs as these can suppress your feelings and make it more difficult to manage your emotions
Spend time with loved ones and trusted friends who are supportive
Talk about it with people who care about you and who will listen to your concerns
Keep informed, but try to limit the amount of news you take in whether it's from the Internet, television, newspapers or magazines.
Recognizing When You Need Extra Support
In some cases, the stressful thoughts and feelings after a trauma continue for a long time and/or interfere with everyday life. For people who continue to feel the effects of the trauma, it is important to seek professional help. Some signs that an individual may need help include:
Worrying a lot or feeling very anxious, sad, or fearful
Crying often
Having trouble thinking clearly
Having frightening thoughts, reliving the experience
Feeling angry
Having nightmares or difficulty sleeping
Avoiding places or people that bring back disturbing memories and responses.

Physical responses to trauma may also mean that an individual needs help. Physical symptoms may include:
Headaches
Stomach pain and digestive issues
Feeling tired
Racing heart and sweating
Being very jumpy and easily startled
If you are in distress, experiencing a crisis, or need support, please contact:
Veteran and Military Crisis Line
Qualified and caring Department of Veterans Affairs responders are available through a confidential toll-free hotline, online chat, or text.
Veterans and their loved ones can call 1-800-273-8255 and Press 1, chat online, or send a text message to 838255 to receive confidential support 24 hours a day, 7 days a week, 365 days a year.
Support for deaf and hard of hearing individuals is available - https://www.veteranscrisisline.net/
The National Lifeline
Provides 24/7 free and confidential support for people in distress, prevention and crisis resources for you or your loved ones, and best practices for professionals. 1-800-273-8255
https://suicidepreventionlifeline.org/
Additional Resources & Support
For more information about managing stress after a tragedy visit:
For Healthcare Providers Serving Veterans
VA National Suicide Risk Management Consultation Program
Working with high risk individuals can be stressful. The Rocky Mountain MIRECC offers free consultation for any provider (community as well as VA) who works with Veterans.
To get started, please send us an email at srmconsult@va.gov.
For more information regarding the consultation program:
https://www.mirecc.va.gov/visn19/consult/how.asp
National Center for PTSD Consultation Program
Any provider who treats Veterans with PTSD can ask a question or request consultation about PTSD-related issues.
For more information see: https://www.ptsd.va.gov/professional/consult/
Our Centers
MIRECCs and COEs
Dual Diagnosis: Veterans with mental illness in combination with addiction problems
Integrating mental health services into the primary care setting
Reduce the morbidity and mortality in Veterans due to suicidal behavior
The focus is on maximizing recovery for veterans with Serious Mental Illnesses (SMI)
Focus on comorbidity—the co-occurrence of mental health disorders with either general medical, mental health, and/or substance use disorders.
Improve the care of all Veterans with schizophrenia and other Serious Mental Illnesses
Overarching goal is the clinical assessment and treatment of post-deployment mental illness and related problems
Improve access to evidence-based practices in rural and other underserved populations
Focus on mental health issues in returning war Veterans (OEF/OIF/OND)
To study suicide with the goal of reducing suicide in the veteran population
Applies genetic, neurobiologic and clinical trial methods to the discovery of effective treatments for major mental disorders
To improve the clinical care for veterans with dementias and with PTSD
To improve the outcome of patients with chronic psychotic mental disorders (schizophrenia, schizoaffective disorder and psychotic mood disorders)
To be a national resource for cutting-edge understanding and state-of-the-art treatment of stress- and trauma-related problems
To advance the science and promote the understanding of traumatic stress as to improve the well-being and understanding of American Veterans
Top Pages
Top 15 Most Viewed Pages