Attention A T users. To access the menus on this page please perform the following steps. 1. Please switch auto forms mode to off. 2. Hit enter to expand a main menu option (Health, Benefits, etc). 3. To enter and activate the submenu links, hit the down arrow. You will now be able to tab or arrow up or down through the submenu options to access/activate the submenu links.

Rocky Mountain MIRECC TBI Toolkit
Jump to: Department of Defense | Military Branches | Rank/Rate | Military Slang | Definition: Veteran | Veterans Affairs (VA) | Military Service Information | Intervention | Resources | References
Military/Veteran Culture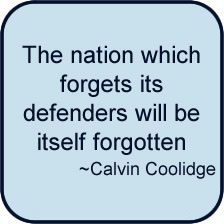 Understanding Military culture is an essential component to working with Veterans and Active Duty Personnel. This section offers introductory information regarding Military structure along with links to help civilian community providers better understand Military culture.
Basics of the United States Military can also be found at this link.
The Department of Defense

The mission of the Department of Defense (DoD) is to provide military forces needed to deter war and to protect the security of our country. The DoD trains and equips the armed forces through three military departments: the Army, Navy and Air Force. The Marine Corps, mainly an amphibious force, is part of the Department of the Navy. The primary job of the military departments is to train and equip their personnel to perform warfighting, peacekeeping and humanitarian/disaster assistance tasks. Organizationally, the Coast Guard is part of the Department of Homeland Security.
Click here to explore organization of the Department of Defense.
Active Duty, Reserve, National Guard and Merchant Marine
Information in this section was provided from the Veterans Employment Toolkit Handout entitled "Active Duty vs. Reserve or National Guard." The full document can be accessed here.
The term active duty refers to a person who works full time for the military and may be deployed at any time. (US Department of Veterans Affairs, 2012). Individuals in the Reserve or in the National Guard are not full time active duty military personnel but still can also be deployed at any time if needed. (US Department of Veterans Affairs, 2012).
Each branch of the military has a Reserve component to provide and maintain trained individuals to be available for active duty, including during wartime, national emergencies, or threats to national security. Members of the Reserve are required to participate in training drills one weekend per month and two weeks per year.
The National Guard consists of the Army National Guard and the Air Force National Guard, and is organized and controlled by state. In times of war, the National Guard can become federalized and deployed. The National Guard assists in local emergencies such as helping communities endangered by disasters like fire and flood. The National Guard also can be deployed to combat areas, but typically are more often used to facilitate in building schools and hospitals, or training local peacekeepers or citizens. Those in the National Guard also participate in training drills one weekend a month and two weeks per year. Veteran status is given to National Guard Members if they have served for 30 consecutive days in a war zone.
Merchant Marine is a fleet of merchant ships operated by the government and private sectors that facilitate in commerce or transporting goods during peacetime. During wartime, it can deliver troops and war material. Those who serve in the Merchant Marine are called "Mariners." They are civilians and are only considered military personnel during times of war. They are given Veteran status if they served in a war.
Military Branches
There are five Military branches in the United States (Air Force, Army, Coast Guard, Marine Corps, and Navy). The words and titles used to describe the role a person has in each branch varies, as noted below.
Air Force

Personnel: Airman
Operational Units: Flights, Squadrons, Groups, Wings, Numbered Air Forces, and Major Commands

Army

Personnel: Soldier
Operational Units: Squads, Platoons, Companies, Battalions, Brigades, Divisions, and Corps

Coast Guard

Personnel: Guardian
Operational Units: Port Security Units, Tactical Law Enforcement Teams, Maritime Safety & Security Teams, Maritime Security Response Team, National Strike Force, Regional Dive Lockers

Marine Corps

Personnel: Marine
Operational Units: Teams, Squads, Platoons, Companies, Regiments, and Divisions

Navy

Personnel: Sailor
Operational Units: Varies
Rank/Rate
There are three general categories of rank/rate (Military Media Group, 2014). (Note: The majority of services use the term "rank" while the Navy/Coast Guard uses the term "rate"): Enlisted personnel, Warrant Officers, and Commissioned Officers.
Enlisted personnel includes non-commissioned and petty officers (E1-E9). They perform the primary jobs that need to be done. Enlisted members are "specialists." They are trained to perform specific specialties in the military. As enlisted personnel progress up the ranks/rates (there are nine enlisted ranks/rates), they assume more responsibility, and provide direct supervision to their subordinates.
Warrant officers are highly specialized experts, which comprise only about 2% of all military ranks/rates (W-1-W-5). Unlike commissioned officers, warrant officers remain in their primary specialty to provide specialized knowledge, instruction, and leadership to enlisted members and commissioned officers alike.
Commissioned officers are the highest rank/rate (O-1-O-10). Their primary function is to provide overall management and leadership in their area of responsibility. Unlike enlisted members and warrant officers, commissioned officers do not specialize as much (with certain exceptions such as pilots, doctors, nurses, and lawyers). Commissioned Officers must have a minimum of a four-year bachelor's degree. As they move up the ranks/rates, if they want to get promoted, they will have to earn a master's degree.
Job Type
It may also be helpful to understand the type of job the Veteran performed while in the military. Military specialties are referred to as Military Occupational Specialty (MOS) or Navy Enlisted Classification (NEC).
For more details about military rankings.
Glossary of Military Slang
Military slang is a set of colloquial terms which are unique to or which originated with military personnel (Wiktionary, 2014). They are often abbreviations or derivations of the NATO Phonetic Alphabet, or otherwise incorporating aspects of formal military concepts and terms. Military slang is also used to reinforce the (usually friendly) inter-service rivalries. Some of these terms have been considered derogatory to varying degrees and attempts have been made to eliminate them.
Military slang is fluid. The link below is to a website, a Wiki, where users are allowed to add and/or edit the slang terms. Since the site is edited by users we cannot validate its accuracy. It is worth looking at but should be considered only an interesting resource and not definitive or endorsed by creators of this website. See more: military slang.
Definition of a Veteran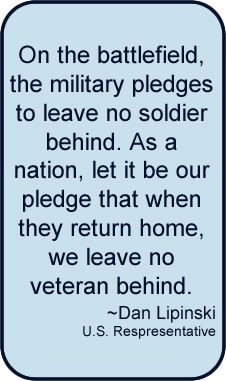 A Veteran is defined by statute 38 U.S.C. § 101(2); 38 C.F.R. § 3.1(d) as a "person who served in the active Military, Naval, or Air Service, and who was discharged or released therefrom under conditions other than dishonorable."
There are approximately 23 million living Veterans in the United States. However, current estimates suggest that only 36% of all Veterans are receiving VA benefits and services. Approximately half of all Operation Enduring Freedom (OEF)/Operation Iraqi Freedom (OIF)/Operation New Dawn (OND) Veterans have enrolled in VA health care. These numbers suggest that many Veterans may choose to seek services in the community at non-VA affiliated agencies and with civilian providers.
The Department of Veterans Affairs (VA)

The material presented here offers a brief overview of services available to Veterans via the Department of Veterans Affairs.
The Veterans Administration was first established in 1930 as a way to "consolidate and coordinate government activities affecting war Veterans." (US Department of Veterans Affairs, n.d.). The Department of Veterans Affairs (commonly known as "the VA") was further established in 1989 as a Cabinet-level position. The VA is structured into three main service lines, which provide the following benefits:
Veterans Benefits Administration
Veterans Health Administration
National Cemetery Administration
Additional information about programs administered by the Department of Veterans Affairs is available here
Veterans Benefits Administration

The Veterans Benefits Administration (VBA) offers multiple services to Service-members, Veterans, their families and survivors. The organization provides oversight for the following:
| Office of Disability Assistance | Office of Economic Opportunity |
| --- | --- |
| Compensation Service | Education Service |
| Pension & Fiduciary Service | Loan Guaranty Service |
| Insurance Service | Vocational Rehabilitation and Employment Service |
| Benefits Assistance Service | |
Detailed information regarding the VBA is available here
Veterans Health Administration

The Veterans Health Administration (VHA) is the largest integrated health care system in the United States. Approximately 8.76 million Veterans receive care each year at over 1700 locations.
The VHA includes:
152 VHA Medical Centers
827 Community Based Outpatient Clinics
135 Community Living Centers
48 Domiciliaries*
278 Community based Vet Centers
21 Veterans Integrated Services Networks
* A domiciliary is A VA facility that provides care on an ambulatory self-care basis for Veterans disabled by age or diseases who are not in need of acute hospitalization and who do not need the skilled nursing services provided in a nursing home. (More information)
Additional information on Veteran services can be found here
Click here to visit the VA Eastern Colorado Health Care System.
To learn how Veterans can enroll in the VA Health Care System, call (888) 336-8262 and press "4" or click here for more information.
Veterans may also apply online for health benefits.
National Cemetery Administration

The National Cemetery Administration (NCA) honors Veterans with final resting places in National shrines and with lasting tributes that commemorate their service to our Nation. There are 131 cemeteries and 33 soldiers' lots and monument sites. Additional information regarding the NCA can be found here
Screening for Military Service Information
Screening for history of military service and/or Veteran status is not something that may be commonly included in traditional community behavioral health intakes. Veterans may not volunteer this information to a clinician. Learning more about a Veteran's individual experiences may facilitate increased understanding of and treatment disposition for your client. We encourage you to ask all clients a few key questions regarding their military service. These questions could be incorporated into the intake process for new clients, or as part of screening processes already in place at your facility. Screening for history of military service can be an essential component in understanding risk for traumatic brain injury, psychiatric difficulties, and other post-service issues.
Key Questions
Examples of key questions you may want to ask your client related to his or her military service might include:
What branch of military service did you serve?

note that there may be more than one branch

How many years (or months) of Active Duty Service did you have?
How many years (or months) of Reserve Service did you have?
What was your date of separation?
In which service era did you serve?

note there may be more than one
click to download a list of service eras

Were you deployed? If yes, how many times were you deployed?

An explanation of deployment stressors experienced by service members during deployment, common challenges, and tips for working with Veterans who have been deployed - click here to download
Additional information, assessment, and client handouts regarding deployment is available from the Health.mil

Do you have a history of combat experience? If yes, how many combat tours have you served and where?
Were you exposed to hand-to-hand combat?

Veterans and their family members may benefit from reading the Military Deployment Guide prepared by the US Department of Defense. The sections on post-deployment emotional let down, and combat and operational stress may be especially useful. Download the PDF here.
Information regarding combat and operational stress can also be downloaded here.
As described by the US Department of Veterans Affairs Community Provider Toolkit, screening for military service helps to:
Ensure that each Veteran will have the opportunity to access the network of healthcare and support services for which he or she may be eligible
Inform treatment planning
Increase awareness of the extraordinary strengths that Veterans often possess and unique challenges that they may face
Reliability, Sensitivity, and Specificity of the VA Traumatic Brain Injury Screening Tool - read the article
Intervention
Visit the Department of Veterans Affairs Community Provider Toolkit: Working Together to Serve Veterans to participate in online "mini-clinics" for civilian clinicians. These educational, assessment, and treatment tools are geared to help support the rehabilitation and recovery of Veterans living with mental illness.
Mini-clinics for providers include the following topics:
PTSD
Suicide Prevention
Serious Mental Illness
Women Veterans
Smoking & Tobacco Use
Substance Use
Continuing Education and Training
Earn CEs from the VA when you learn about military culture through online coursework:
The National Association of Social Workers offers a free online 5 course training module on working with military service members and families, learn more here
Learn more about The American Psychological Association's efforts related to service members, Veterans and their families.
Resources
Military Culture for Healthcare Professionals website. This website was designed by Military Culture experts working as part of a DoD/VA collaborative effort to help healthcare professionals become more culturally aware by providing education, tools and resources for their clinical practice.
An additional resource is the free, accredited training developed by a partnership of the Health Resources and Services Administration (HRSA), the National Area Health Education Center (AHEC) Organization, the VISN 6 MIRECC and Citizen Soldier Support Program (available at www.aheconnect.com/citizensoldier) which provides additional information on Deployment Stress (MH and Primary Care versions), Women Veterans, and Military Families.
Department of Veterans Affairs:
http://www.va.gov/
Veterans Benefits Administration:
http://benefits.va.gov/benefits/
Veterans Health Administration:
http://www.va.gov/health/
National Cemetery Administration:
http://www.cem.va.gov/index.asp
VA Glossary (definitions & acronyms):
http://www.va.gov/vetdata/Glossary.asp
Military & Veteran Culture Quick Series (also available as a free downloadable eReader):
http://quickseries.com/index.php?prodcode=01-0495-000-01
View the Department of Veterans Affairs Community Provider Toolkit to understand Veterans' military culture and experiences:
http://www.mentalhealth.va.gov/communityproviders/
Complete a 1 hour course (CE credit available): Understanding Military Culture
http://www.ptsd.va.gov/professional/ptsd101/course-modules/military_culture.asp
Center for Deployment Psychology provides education, tools and resources to help health care professionals become more aware of military culture and how to apply this knowledge in their clinical practice
http://deploymentpsych.org/military-culture
"Understanding the Military: The Institution, The Culture and the People," a handbook for health care providers offered by Substance Abuse and Mental Health Services Administration
http://www.samhsa.gov/sites/default/files/military_white_paper_final.pdf
Give an Hour offers military mental health care training modules, and free continuing education credits, for civilian providers who donate their time to treat service members and veterans
https://giveanhour.org/give-help/licensed-provider-information/provider-training/
The Training Institute at Home Base offers free, certified online and in-person training for providers. Tracks include military culture, traumatic brain injury (TBI) and posttraumatic stress disorder (PTSD)
http://homebase.org/education-training/training-institute/
Road Home program at Rush provides individualized care for veterans and family members
http://roadhomeprogram.org/
Emory Healthcare is a veterans program that helps treat PTSD, TBI, military sexual trauma, anxiety and depression
http://emoryhealthcare.org/veterans-program/index.html
Community Provider Toolkit from the Department of Veterans Affairs. The site offers a free course on military culture for which providers can earn continuing education credit, as well as brief tip sheets on various issues related to health care for service members and veterans
http://www.mentalhealth.va.gov/communityproviders/military_culture.asp
References
About the Department of Defense. (n.d.) Retrieved August 20, 2014 from the DoD website
Appendix: Glossary of military slang. (n.d.) In Wiktionary. Retrieved March 12, 2017 here
For a detailed overview of the VA Benefits System
US Department of Veterans Affairs. (n.d.) About VA. Retrieved here
US Department of Veterans Affairs. (April 6, 2012). Active duty vs. reserve or national guard. Veterans Employment Toolkit Handout. Retrieved here on August 20, 2014.
US Department of Veterans Affairs. (n.d.) Screening for military service. Retrieved from VA website on August 20, 2014.
US Department of Veterans Affairs. (n.d.) Veterans Health Administration. Retrieved from VA website on August 20, 2014.
Your Feedback
Your feedback is tremendously important to keeping this toolkit up to date and relevant. If you find broken links, out of date information, or you have questions, suggestions or quibbles please contact Joe Huggins at joe.huggins@va.gov.
Thanks!
Site Map
Contact Information
Denver
Rocky Mountain Regional VAMC (RMR VAMC)
1700 N Wheeling St, G-3-116M
Aurora, CO 80045
720-723-6493
Salt Lake City
VA Salt Lake City Health Care System
500 Foothill DR
Salt Lake City, UT 84148
801-582-1565 x2821
return to top