Attention A T users. To access the menus on this page please perform the following steps. 1. Please switch auto forms mode to off. 2. Hit enter to expand a main menu option (Health, Benefits, etc). 3. To enter and activate the submenu links, hit the down arrow. You will now be able to tab or arrow up or down through the submenu options to access/activate the submenu links.

Rocky Mountain MIRECC TBI Toolkit
Jump to: For Veterans | Family/Friends | Providers
Resources

This page contains a variety of resources for Veterans, Family, Friends and Caregivers. There are also additional resources for Providers.
For Veterans
Further information about TBI and services that may be available to Veterans with a history of TBI are found in the links below.

The mission of the Defense Centers of Excellence for Psychological Health and Traumatic Brain Injury (DCoE) is now Health.mil and is the official website for military health. This section points to the area related to TBI.
---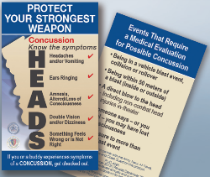 The HEADS card helps medics, leaders, and battle buddies in the field evaluate such injuries. HEADS stands for Headaches, Ears ringing, Amnesia, Dizziness, and "Something feels wrong" - all symptoms of concussion. Download
---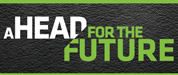 Most traumatic brain injuries (TBIs) in the military are diagnosed in a nondeployed setting. Military readiness can make you physically and mentally strong, but an extreme approach to work and play puts you at greater risk of getting a concussion. Defense and Veterans Brain Injury Center (DVBIC) created the A Head for the Future initiative to raise awareness and lower the risk of concussion. How? By spreading the word about signs, symptoms and treatment of brain injuries and educating service members and veterans about how to prevent them. We're talking to you – military families, line leaders, health care providers and caregivers.
---

The mission of Brain Injury Association of America is to advance brain injury prevention, research, treatment and education and to improve the quality of life for all individuals impacted by brain injury. Through advocacy, we bring help, hope and healing to millions of individuals living with brain injury, their families and the professionals who serve them.
The Brain Injury Association of America provides information about living with a brain injury.
---

The Brian Injury Alliance Colorado produces a valuable Resource Directory
---

The Center for Neuroscience and Regenerative Medicine (CNRM) is a federal intramural program that studies the full spectrum of traumatic brain injury (TBI), also known as concussion, with a special focus on military-relevant injuries. We welcome those with symptoms of traumatic brain injury (TBI, also known as concussion) and posttraumatic stress (PTS) to contact us to participate. Individuals who are in good health are also vital to clinical research. Participation is the key to advancing important research. Brain injury can affect how you think, feel, remember, and communicate.
---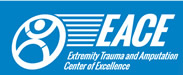 The Deployment Health Clinical Center (DHCC) is the psychological health component of the Defense Centers of Excellence for Psychological Health and Traumatic Brain Injury (DCoE). DCoE and its centers are responsible for informing, integrating and evaluating psychological health and traumatic brain injury practices and policies across the services.
---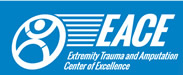 The Extremity Trauma and Amputation Center of Excellence (EACE) is the leading advocate for research and treatment of Department of Defense and Department of Veterans Affairs patients with extremity trauma and amputation. Working with TRICARE, the Military Health System, Veterans Health Administration and other Centers of Excellence, the EACE will lead efforts to enhance collaboration between the Department of Defense and the Department of Veterans Affairs extremity trauma and amputee care providers and conduct scientific research to minimize the effects of traumatic injuries and improve clinical outcomes.
---

The mission of the Hearing Center of Excellence is to heighten military readiness to optimize quality of life through collaborative leadership and advocacy for hearing and balance health initiatives.
---

Military OneSource is a Department of Defense funded program providing information, referral, non-medical counseling, website, specialty consultations, educational materials and many other services. Military OneSource provides services through the call center at 800-342-9647 and website at www.militaryonesource.mil to active duty, National Guard and reserve (regardless of activation status) and their families. Also eligible are members of the Coast Guard and their families (when activated for the Navy), and members of the civilian expeditionary workforce and their families. Service and support are available worldwide 24 hours a day, seven days a week.
---

The mission of the National Center for Telehealth and Technology (T2) is to lead the development of telehealth and technology solutions for psychological health and traumatic brain injury to improve the lives of the Nation's Warriors, Veterans, and their Families.
For information regarding services & programs offered by the Veterans Administration
www.va.gov
---
The National Intrepid Center of Excellence (NICoE) is the Military Health System institute for complex, comorbid traumatic brain injury and psychological health conditions. We deliver comprehensive and holistic care, conduct focused research, and export knowledge to benefit service members, their families and society. Combat and mission-related traumatic brain injury with psychological health conditions affects countless service members and their families each year. Although each condition can cause specific symptoms, co-occurrence can cause a complex constellation of symptoms that requires a different treatment plan. The National Intrepid Center of Excellence (NICoE) is an institute that generates clinical knowledge, improves diagnosis and advances treatment related to the pathophysiological and natural history of comorbid mild traumatic brain injury and psychological health conditions.
---

The Real Warriors Campaign (www.realwarriors.net) is a public awareness initiative through the Defense Centers of Excellence for Psychological Health and Traumatic Brain Injury (DCoE) encouraging help-seeking behavior among service members, veterans and military families coping with invisible wounds. The campaign's tools and resources include an interactive web and mobile site, videos and PSAs, social media, educational print materials and a partnership network. The campaign features stories of real service members who reached out for support or care for psychological health concerns with successful outcomes.
---

VA's Polytrauma System of Care (PSC) is an integrated network of specialized rehabilitation programs dedicated to serving Veterans and Service Members with both combat and civilian related Traumatic Brain Injury (TBI) and polytrauma. Services available through PCS include: interdisciplinary evaluation and treatment, development of a comprehensive plan of care, case management, patient and family education and training, psychosocial support, and application of advanced rehabilitation treatments and prosthetic technologies.
---

The Veterans Benefits Administration (VBA), in partnership with the Veterans Health Administration and the National Cemetery Administration, provides benefits and services to Servicemembers, Veterans, and their families in recognition of their service to the Nation. For information regarding services and benefits available to Veterans — review the Veteran Benefits Administration.
---

The Vision Center of Excellence is dedicated to leading and advocating for programs and initiatives to improve vision health, optimize readiness and to enhance quality of life for Service members, Veterans and families across the continuum of care. The VCE maximizes the potential for effective prevention, diagnosis, mitigation, treatment, and rehabilitation of injuries and disorders of the visual system through its collaborative efforts and helps facilitate the identification of research capabilities within and between DoD and VA.
This 2 page handout from Archives of Physical Medicine and Rehabilitation is a great resource for Veterans, Families and Caregivers.
ITEAplus: Individualized Training and Education in Acupressure
For over a decade, the CAIRR Neuroscience Laboratory in The Psychology and Neuroscience Department at the University of Colorado Boulder has conducted a series of clinical research studies about the efficacy of acupressure for stress, cardiovascular function in stroke survivors, and mild traumatic brain injury in both civilian and veteran populations. From these, not only has a body of work emerged, but also a manualized version of training and education in acupressure1 which provides the foundation of the ITEAplus web-based platform. Find more
For Family & Friends
Family and other social support plays a major role in obtaining a successful outcome for those who have experienced a brain injury (Veterans Health Initiative, 2010). Ongoing sequelae from TBI, however, can have a significant impact on the social support network. For example, up to 47% of caregivers of persons with a history of TBI experience depression (Gillen et al., 1998). Below is a list of resources that can help support family, friends and caregivers of individuals who have experienced a TBI.

Download this important information sheet on what players, families and coaches need to know about sports concussion. Also, let coaches know about the online training HEADS UP to Youth Sports: Online Training from the CDC.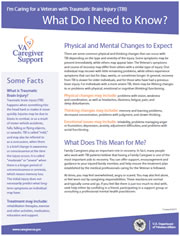 The VA Caregiver website declares "VA values your commitment as a partner in our pledge to care for those who have "borne the battle," and we have several support and service options designed with you in mind. The programs are available both in and out of your home to help you care for the Veteran you love and for yourself."
The VA Family Caregivers Guide to TBI.
---

From their website "Family members and friends play an important role in the care and rehabilitation of individuals with traumatic brain injuries (TBIs). Most people who have sustained a TBI recover significantly in the first few months following injury. In fact, more than 85 percent of people with a concussion, also known as a mild TBI, recover completely within weeks to months with minimal intervention."
Family members and care givers may request support from DVBIC's TBI Recovery Support Program.
See the DVBIC video "Caring for a Loved One After a Military TBI: One Wife's Perspective".
---

The Model Systems Knowledge Translation Center (MSKTC) summarizes research, identifies health information needs, and develops information resources to support the Model Systems programs in meeting the needs of individuals with traumatic brain injury (TBI), spinal cord injury (SCI), and burn injury.
See the Model Systems Knowledge Translation Center Fact Sheet on Emotional Problems After Traumatic Brain Injury.
---

The Center of Excellence for Medical Multimedia offers printable caregiver guides, journal templates, caregiver FAQs, and other tips.
---

BrainLine offers information, handouts, personal stories, legal and financial guidance, and caregiver burnout advice related to caring for someone with a TBI on their "For Family and Friends" webpage.
---

National Resource Directory for Wounded Warriors, Servicemembers, Veterans, Their Families and Caregivers.
---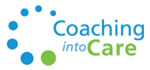 Coaching into Care provides a free, confidential "coaching" service for family and friends of Veterans who see that their Veteran needs help. Coaching involves helping the caller figure out how to motivate their Veteran to seek services. The service is free and provided by licensed clinical social workers and psychologists. The goal of the service is to help the Veteran and family members find the appropriate services in their community. Call 888-823-7458
---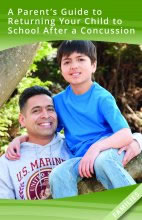 Car crashes, playground falls and sports injuries cause thousands of concussions a year among children. Find out ways you can successfully return your child to school following a concussion by asking for help from the school and making sure your child is getting enough rest at home. Includes resources for military parents, but it is also suitable for civilians (September 2014).
---
References:
Gillen, R., Tennen, H., Affleck, G., Steinpreis, R. (1998). Distress, depressive symptoms, and depressive disorder among caregivers of patients with brain injury. Journal of Head Trauma Rehabilitation, 13(3),31-43.
Veterans Health Initiative (2010). Traumatic Brain Injury. Department of Veterans Affairs Employee Education System. Retrieved from: http://www.publichealth.va.gov/docs/vhi/traumatic-brain-injury-vhi.pdf
For Providers
The links below provide additional information about TBI, Veterans services, and general information about how to work with individuals with a history of TBI.
This handy 3 page resource can be downloaded for personal use or to give to Veterans, families and caregivers.

This site was designed and informed by VA clinicians and staff at the National Center for PTSD and Office of Mental Health Services. On the website,are a collection of key tools for working with Veterans; plus some new tools. The website includes easy to access information about how to partner with the VA, understanding military culture, as well as tools for working with a variety of mental health difficulties.
Go to the website

The Brian Injury Alliance Colorado produces a valuable Resource Directory
---

The mission of the Health.mil Traumatic Brain Injury is to improve the lives of our nation's service members, families and veterans by advancing excellence in psychological health and traumatic brain injury prevention and care.

The DCOE provides general information regarding TBI/concussion and psychological health conditions commonly affecting the Nation's military communities, service members and families.
---

The CDC provides a toolkit for physicians called "Heads Up: Brain Injury in Your Practice" that is a valuable resource.
---
The Ohio Valley Center for Brain Injury Prevention and Rehabilitation provides information for community providers working with individuals with a history of TBI.
---

Case management resources for those working with Veterans with a history of TBI.
---

Information for professionals from the Rocky Mountain MIRECC whose mission is to study suicide with the goal of reducing suicidal ideation and behaviors in the Veteran population. Towards this end, the work of the Rocky Mountain MIRECC is focused on promising clinical interventions, as well as the cognitive and neurobiological underpinnings of suicidal thoughts and behaviors that may lead to innovative prevention strategies.
---
National Center for Telehealth and Technology:
Provider Resilience App

Download the free App "Provider Resilience" created by the National Center for Telehealth and Technology. Provider Resilience gives health care providers tools to guard against burnout and compassion fatigue as they help service members, Veterans, and their families.
Your Feedback
Your feedback is tremendously important to keeping this toolkit up to date and relevant. If you find broken links, out of date information, or you have questions, suggestions or quibbles please contact Joe Huggins at joe.huggins@va.gov.
Thanks!
Site Map
Contact Information
Denver
Rocky Mountain Regional VAMC (RMR VAMC)
1700 N Wheeling St, G-3-116M
Aurora, CO 80045
720-723-6493
Salt Lake City
VA Salt Lake City Health Care System
500 Foothill DR
Salt Lake City, UT 84148
801-582-1565 x2821
return to top