Attention A T users. To access the menus on this page please perform the following steps. 1. Please switch auto forms mode to off. 2. Hit enter to expand a main menu option (Health, Benefits, etc). 3. To enter and activate the submenu links, hit the down arrow. You will now be able to tab or arrow up or down through the submenu options to access/activate the submenu links.

Rocky Mountain MIRECC TBI Toolkit
Justice Involved Pages: Home | TBI & Incarceration | TBI-Related Problems |
Screening/Assessment | Management & Intervention | Resources
MANAGEMENT AND INTERVENTION
Jump to: For Criminal Justice Professionals | For Mental Health Professionals
Considerations for Criminal Justice Professionals
Management Strategies
Within the correctional setting, TBI can contribute to situations that lead to disciplinary action. Here are some common TBI problems and strategies for management:
Attention deficits may make it difficult for the inmate with TBI to focus on a required task or respond to directions given by a corrections officer. Either situation may be misinterpreted, thus leading to an impression of deliberate defiance on the part of the inmate.
Management strategies:
Ask the inmate to repeat what you have said to confirm that he or she has heard and understood your directions
Encourage the inmate to write down steps for the task
Allow extra time for the task to be done
Clear or reduce environmental distractions
Memory deficits can make it difficult to understand or remember rules or directions, which may lead to disciplinary actions by jail or prison staff.
Management strategies:
Explain rules or directions slowly, step-by-step
Ask the inmate to repeat the steps and encourage him or her to write down the information
Provide examples and ask the inmate to provide his or her own
Teach the inmate to ask questions when he or she doesn't understand
Slowed verbal and physical responses may be interpreted by corrections officers as uncooperative behavior.
Management strategies:
Give directions, or ask questions, slowly; repeat if necessary
Allow the inmate additional time to respond
Irritability or anger may be difficult to control which can lead to an incident with another inmate or corrections officer. Such incidents can lead to further injury for the inmate with TBI and others.
Management strategies:
Avoid arguing with the inmate
Try re-phrasing the problem, breaking it down into parts
Reinforce positive behaviors
Uninhibited or impulsive behavior, including unacceptable sexual behavior, may provoke other inmates or result in disciplinary action by jail or prison staff.
Management strategies:
Tell the inmate calmly that the behavior is unacceptable
Specific Interventions for Executive Dysfunction
Management strategies:
Emotional regulation
Problem-solving Therapy
Cognitive behavior interventions focusing on improving specific cognitive skills (e.g., inhibition) were found to be the most effective in decreasing recidivism (Lipsey and Cullen, 2007).
Coping Skills Group
Goal Management Training
Attention Improvement and Management Program. Each of these interventions could easily complement treatment modalities already shown to be effective with youth in the juvenile justice system, such as cognitive behavioral therapy.
Care Coordination for Re-entry
Defining Re-Entry
Correctional programs that focus on the transition to the community (such as prerelease, work release, halfway houses, or other programs specifically aiming at reentry) and programs that have initiated some form of treatment (such as substance abuse, life skills, education, or mental health) in prison that is linked to community programs that will continue the treatment once the prisoner has been released. For more information, see: https://fas.org/sgp/crs/misc/RL34287.pdf
Areas Targeted During Re-Entry
Employment
Education
Substance Abuse Treatment
Mental Health
Housing

Community re-entry staff should be trained to identify a history of TBI and have access to appropriate consultation with other professionals with expertise in TBI. Some main considerations are:
Transition services accommodate problems resulting from a TBI
Case management and assistance with placements into community mental health and/or substance abuse treatment programs are indicated
Considerations for Juvenile Populations
There are several useful resources that may assist professionals and supports of children and adolescents with brain injury (particularly, moderate/severe injuries) who are transitioning back into school and home settings. Consult with schools regarding identification, school re-entry planning, IEP/504 Plan development, intervention selection and implementation, long-term monitoring of students and other issues professionals face in supporting students with brain injury.
Provide consultation to parents of any student with brain injury referred to the team and ongoing communication regarding services the team is providing for student.
Monitor students annually until graduation for manifestation of new cognitive/behavioral/social issues.
Disseminate brain injury resource information (e.g., written information, links to websites, referrals to community resources, etc.) to educators, families, and community providers working with students with BI.
Provide training on the educational implications of brain injury to educators as well as groups in their local community (e.g., parent, medical, rehabilitation).

School professionals can assess academic impact, determine appropriate academic adjustments and adjust supports as symptoms subside (See: https://biacolorado.org/concussion-protocol/)
Have student removed from physical play at recess, physical education, and athletics
School should be informed of injury and presenting symptoms
Schools should be informed of what to watch for and symptoms that may develop later in recovery
Provide information on academic adjustments and sample symptom checklist
Severity of symptoms and symptom threshold will impact level of participation in academics
School professionals can provide valuable feedback regarding the student's symptoms, their recovery process, and academic supports provided for symptoms
Considerations For Mental Health Professionals
PSYCHOEDUCATION
It is essential for providers to routinely assess substance use in the ongoing management of individuals who sustained a TBI. The video below "Substance Use and Traumatic Brain Injury Risk Reduction and Prevention" may be helpful for you and your client to view together in practice. The video provides education on how substance use can influence a person with TBI, the risks associated with substance use after a TBI, and how to reduce risk from sustaining future injuries. This video was designed to open dialogue with clients on the topic of substance use.
TARGET TRANSDIAGNOSTIC RISK FACTORS USING COGNITIVE-BEHAVIORAL INTERVENTIONS
Generally speaking, treatment for TBI in correctional settings should address the specific problem in functioning. That is, providers should focus on treating the problem and not the injury per se.
Interventions that focus on coping skills and executive functioning (cognitive flexibility, problem-solving, goal-directed behavior, emotional regulation) may provide great benefits for adults as well as children and adolescents in the juvenile justice setting.
Cognitive behavioral therapy has been found to be effective with juvenile and adult offenders; substance abusing and violent offenders; and probationers, prisoners and parolees. It is effective in various criminal justice settings, both in institutions and in the community, and addresses a host of problems associated with criminal behavior. For instance, in most cognitive behavioral therapy programs, offenders improve their social skills, means-ends problem solving, critical reasoning, moral reasoning, cognitive style, self-control, impulse management and self-efficacy.
Types of CBT that have shown promise in reducing recidivism in criminal justice settings:
Dialectical Behavior Therapy

is a cognitive-behavioral therapy that has been implemented in correctional settings to improve distress tolerance and emotional regulation and reduce aggressive and self-directed violent behavior. DBT utilizes a combination of skills training, problem solving, and validation to enable patients to reduce self‐destructive, impulsive and aggressive behaviors. Results offer very preliminary evidence that DBT has the potential to reduce recidivism risk in criminal justice systems if applied within a Risk-Need-Responsivity framework.

Thinking for a Change

is a cognitive-behavioral curriculum developed by the National Institute of Corrections that concentrates on changing the criminogenic thinking of offenders. The program is rated Promising. There was a statistically significant difference in the proportion of offenders who recidivated between the treatment group and the control group. For more information on program costs and implementation visit: https://www.crimesolutions.gov/ProgramDetails.aspx?ID=242

Reasoning & Rehabilitation

is an evidence-based, multi-faceted, cognitive-behavioral program for teaching the cognitive skills, social skills and values that are required for prosocial competence. Some of the specific program components include critical reasoning, social perspective-taking, self-control, interpersonal cognitive problem-solving skills, and emotional management. For more information on program costs and implementation visit: http://www.cognitivecentre.ca
CONSIDER ADAPTING PSYCHOTHERAPIES FOR NEUROCOGNITIVE DEFICITS
Accommodations for neurocognitive deficits:
Therapies should be introduced with a simple rationale
Minimize environmental distractions
Slow down the pace, provide frequent opportunities for inmates to respond, generate feedback, and provide reinforcement to maintain inmate engagement
Provide written material/handouts where possible
Repetition of key points
Non-electronic devices might include checklists, pictures or icons, photograph cues, post-it notes, calendars, planners, and journals
TREAT CO-OCCURRING MENTAL HEALTH AND SUBSTANCE-RELATED ISSUES
Individuals with co-occurring mental health and substance use disorder are at significantly increased risk for re-incarceration when compared to those with either disorder alone or no disorder. In addition, justice involved individuals with a history of TBI are more likely than those without a TBI to present with co-occurring disorders.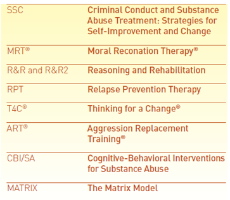 INTEGRATED dual diagnosis treatment. CBT interventions that target mental illness, substance abuse and criminogenic risk factors have been effective at reducing recidivism and relapse rates and improving psychiatric symptoms.
CBT programs that are often used in criminal justice settings that service individuals struggling with mental health and substance abuse are shown in the table.
Site Map
Contact Information
Denver
Rocky Mountain Regional VAMC (RMR VAMC)
1700 N Wheeling St, G-3-116M
Aurora, CO 80045
720-723-6493
Salt Lake City
VA Salt Lake City Health Care System
500 Foothill DR
Salt Lake City, UT 84148
801-582-1565 x2821
return to top