Attention A T users. To access the menus on this page please perform the following steps. 1. Please switch auto forms mode to off. 2. Hit enter to expand a main menu option (Health, Benefits, etc). 3. To enter and activate the submenu links, hit the down arrow. You will now be able to tab or arrow up or down through the submenu options to access/activate the submenu links.

Clinical Educator Grant Program | South Central MIRECC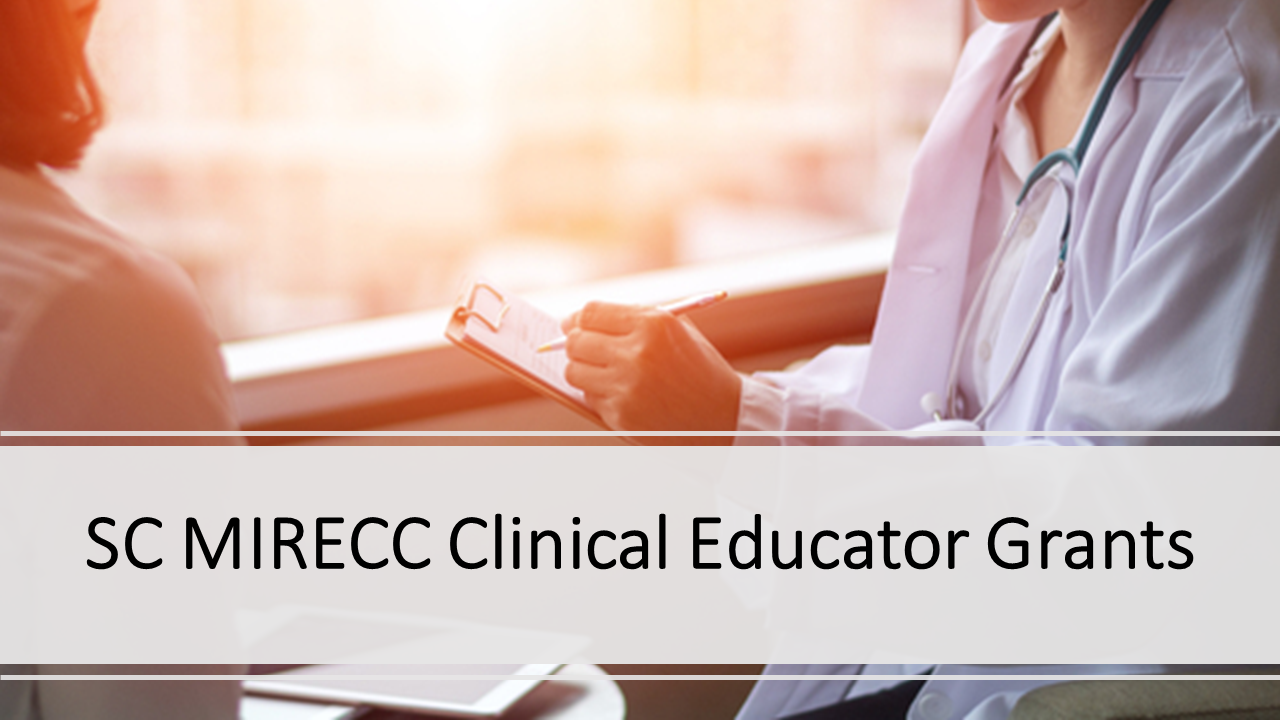 About Clinical Educator Grants
The Clinical Educator Grants Program helps VA clinicians and educators in VISNs 16 and 17 develop innovative tools that target rural, underserved, or hard-to-reach Veterans and their families or improve the health care delivery system. Applications must support the SC MIRECC mission to promote equity in engagement, access, and quality of mental health care for Veterans facing barriers to care, especially rural Veterans.
VISN 16 and 17 mental health clinicians, researchers, evaluators, and educators are eligible to apply. The award amount ranges between $500 and $7,000. Projects involving collaborations between multiple VA facilities may be eligible for an award of up to $10,000 if a VISN 16 or 17 staff member is the principal applicant.
*Request for applications for fiscal year 2019 grants is now closed.
Cognitive Behavioral Therapy Resource Guide for Clinicians
Kristi L. Crane, PsyD (Principal Applicant) and Kristy Watters, PsyD
G.V. Sonny Montgomery VA Medical Center, Jackson, Mississippi
This user-friendly resource guide will include evidence-based worksheets for clinicians facilitating cognitive behavioral therapy (CBT) for mood disorders. The guide can be extended for treatment of disorders other than depression as deemed clinically appropriate by the clinician (e.g., panic, anxiety, anger).
Coping with Sexual Difficulties After Military Sexual Trauma (MST)
Carey S. Pulverman, PhD (Principal Applicant) and Suzannah K. Creech, PhD
Central Texas Veterans Health Care System, Waco, Texas
This set of psychoeducational brochures on coping with sexual difficulties after MST will be created for women Veterans and VA providers with the input of an MST population at one large VA medical center women's clinic and associated rural community-based outpatient clinics.
Explaining Unexplained Symptoms: Understanding Gulf War Illness
Richard W. Seim, PhD (Principal Applicant) and Laura Zambrano-Vazquez, PhD
VISN 17 Center of Excellence, Central Texas Veterans Health Care System, Waco, Texas
This brochure and short informational video will describe Gulf War Illness and its symptoms and provide information on resources available to Veterans.
Obsessive Compulsive and Related Disorders VA Pulse Page
Terri Barrera, PhD (Principal Applicant), Melinda Stanley, PhD, Jan Lindsay, PhD, and Ellen Teng, PhD
Michael E. DeBakey VA Medical Center, Houston, Texas
This page will provide VHA mental health clinicians with resources on the assessment and behavioral treatment of obsessive compulsive disorder and related disorders, including hoarding disorder, body dysmorphic disorder, excoriation disorder, trichotillomania, and obsessive compulsive personality disorder.
Pocket Pharmalogical Cards for Primary Care Providers Working in Remote VA Clinics for Management of PTSD with Comorbid Traumatic Brain Injury (TBI)
Muhammad Rais Baig, MD (Principal Applicant), Adeel Meraj, MD, Rebecca Tapia, MD
Audie L. Murphy VA Medical Center, San Antonio, Texas
These pocket cards will be easy-to-use resources by primary care providers to improve safety of pharmacological management for PTSD with comorbid TBI in remote CBOC clinics with no available primary care mental health integration and polytrauma system of care.
Treating Serious Mental Illness: A Guide to Evidence-Based Psychosocial Approaches
Jared Bernard, PhD (Principal Applicant), Daniel Heathcock, LMSW, Amy Cuellar, PhD, and Charlie Nguyen, PhD
Michael E. DeBakey VA Medical Center, Houston, Texas
This guide will review the major evidence-based psychotherapies (individual and group) and models for working with Veterans with serious mental illness, particularly psychotic-spectrum disorders.
Collaborative Safety Planning with Older Veterans Training Video
Rhonda London, MBA, MSN, PMHNP-BC (Principal Applicant) and Elizabeth Conti, PhD
Michael E. DeBakey VA Medical Center, Houston, Texas
This training video will be designed for use with the Collaborative Safety Planning for Older Adults manual created by Dr. Conti et al. in 2016 with funds from the CEG program.
Dementia-Related Behaviors: Practical Tips for Relating to Individuals with Dementia
Roseann Dust, MS, PA-C (Principal Applicant), Angela Catic, MD, and Ruchi Aggarwal, MD
Michael E. DeBakey VA Medical Center, Houston, Texas
This educational video is for Veterans cohabitating with individuals suffering from behavioral and psychological symptoms of dementia (BPSD) in long-term care settings, including Community Living Centers, VA-contracted long-term care facilities, and State Veterans Homes. It will include an introduction to dementia, overview of dementia-related behaviors, and discussion of effective techniques for coping with / reacting to these behaviors when living in the same community as individuals with BPSD.
Development of Digital Vocational Materials for Veterans with Barriers to Employment
James LePage, PhD (Principal Applicant), April Crawford, MS, Edward Washington, BS, Scott Walters, PhD
VA North Texas Health Care System, Dallas, Texas
These digital vocational rehabilitation materials will focus on Veterans with significant psychosocial barriers. The materials are based on the group-based About Face Vocational System.
Targeting Healthy Emotions and ImpRoving Health Behavior Outcomes (HERO)
Gina Evans-Hudnall, PhD (Principal Applicant)
Michael E. DeBakey VA Medical Center, Houston, Texas
This clinician manual and patient workbook target overweight Veterans with comorbid mental illness.
Training Video for Administering the Montreal Cognitive Assessment Battery
Aaron Short, MD, MPH (Principal Applicant), Hakan Sahin, MD, and Vanessa Danquah, MD, MBA
Michael E. DeBakey VA Medical Center, Houston, Texas
This short video will guide clinicians to employ the Montreal Cognitive Assessment Battery (MoCA) with ease, accuracy and reliability to detect mild cognitive impairment in Veterans.
Products developed through this program will be available to the public for free. These products are ideal for mental health care providers, advocates, and Veterans and their family members. View our inventory to access available products.
Last updated: November 5, 2018
return to top